Steve Reich at Miller Theatre
(May 2014)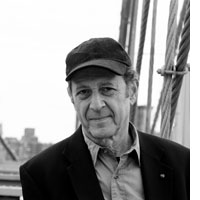 Reich's Tehillim and J.S. Bach's Christ lag in Todes Banden fill out inspired concert
Continuing the exploration of J.S. Bach's lasting impact on the music of today, Steve Reich curates the final program of the Miller Theatre series, Bach Revisited, featuring his masterpiece Tehillim for voices and ensemble, and the work that inspired Tehillim, Bach's Easter Cantata, Christ lag in Todes Banden, BWV 4. The performance will include an onstage discussion with Steve Reich about his selections.

"For me, J.S. Bach is the greatest composer who ever lived. Period." Steve Reich says. Along with his exposure to Stravinsky and jazz, hearing Bach's music as a teenager was a formative experience for Reich that inspired the building blocks of Tehillim. Borrowing from the rhythmic and choral styles of Christ lag in Todes Banden, Tehillim sets the texts of Hebrew psalms with small, intimate instrumental groupings and masterfully interweaves vocal and instrumental lines to create ever-changing musical textures. The result is a work that pulls traditional ideas into new territories.

"[With Tehillim] Mr. Reich's music takes on a whole new dimension of ravishing beauty, beauty that was in there all along."
—The New York Times

On Thursday, May 15, Ensemble Signal, led by Brad Lubman, will perform these two sacred vocal works at Miller Theatre with soloists:

Mellissa Hughes, soprano
Caroline Shaw, soprano
Jamie Jordan, soprano
Kirsten Sollek, alto
Eric Dudley, tenor
Jonathan Woody, bass-baritone

For more information about the performance, click here.
For a video of Steve Reich discussing Tehillim and Bach, click here.
For more information about Tehillim, click here.

On the horizon, Steve Reich will be making his way to Norway for a performance on May 29 at the Bergen International Festival with the London Sinfonietta, conducted by Brad Lubman. The program will include Clapping Music (featuring Steve Reich), Electric Counterpoint (with guitarist Mats Bergström), and 2x5, as well as the Norwegian premieres of Double Sextet and Radio Rewrite. Also looking forward, Steve Reich's Quartet for two vibraphones and two pianos will receive its world premiere by the Colin Currie Group on October 12 at Southbank Centre in London. The all-Reich program will also include Clapping Music, Sextet, and Mallet Quartet.

Earlier this month, the MDR Sinfonieorchester and Rundfunkchor Leipzig completed a short tour and residency with Steve Reich that included performances in Dresden, Leipzig, and Paris—complete Reich programs featuring works such as The Four Sections, The Desert Music, and Duet, among others.
Photo: Jeffrey Herman
> News Search
Mailing List
Sign up for news updates and offers via email
SIGN UP
ONLINE SCORES