Steve Reich's Early Works Now Represented by B&H in the US
(August 2015)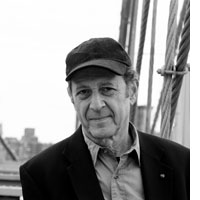 Boosey & Hawkes, Inc. is proud to announce the addition of Clapping Music and other early works by Steve Reich to its catalogue. Steve Reich's Clapping Music also releases on the App Store.
Steve Reich has been heralded as one of the world's most visionary and groundbreaking composers. An influence felt in nearly every genre, his approach to musical architecture has inspired generations of artists from a host of different disciplines. Some of his most iconic works have served as fundamental cornerstones of a new breed of artistry and composition that appeared a half-century ago, its characteristics still present as ever today. Boosey & Hawkes is proud to announce that Reich's early works have been added to its catalogue in the United States, filling out a masterful oeuvre that spans decades. (In other territories, these works remain available from Universal Edition.) Works recently acquired are:
Piano Phase
(1967) 15–21'
for two pianos or two marimbas
Violin Phase
(1967) 15–18'
for violin and tape or four violins
Pendulum Music
(1968) 5–8'
for three or four microphones, amplifiers, and loudspeakers
Four Organs
(1970) 16–22'
for four electric organs and maracas
Phase Patterns
(1970) 15–18'
for four electric organs
Clapping Music
(1972) 3–5'
for two musicians clapping
Music for Pieces of Wood
(1973) 7–10'
for five pairs of tuned claves
Last month also brought the release of
Steve Reich's Clapping Music
on Apple's App Store. Developed by Touchpress, the London Sinfonietta, and Queen Mary University of London,
Steve Reich's Clapping Music
brings Reich's seminal work,
Clapping Music
, to a digital platform, offering an interactive experience in learning and understanding rhythmic patterns.
Aiming to create a game that is both fun and educational, the three partners (brought together by Nesta) set out with the idea of using Steve Reich's music to teach people rhythmic skills and engage a wider audience with contemporary classical music. By incorporating levels of gameplay and integrating educational videos and explanations, the program embraces Steve Reich's approach to musical architecture; the result is an addictive app that brings the user through the full score of
Clapping Music
.
Click here to download Steve Reich's Clapping Music
Critical acclaim for
Steve Reich's Clapping Music
:
"Forget 'Angry Birds,' or '2048.' The latest star of a maddeningly addictive iPhone game is the composer Steve Reich."
—The New York Times
"…brilliant – and infuriatingly addictive…"
—The Guardian
"…perfectly modern and delightful."
—The Globe and Mail
For more information about Steve Reich,
click here
.
> Further information on Work: Clapping Music
Photo: Jeffrey Herman
> News Search
Mailing List
Sign up for news updates and offers via email
SIGN UP
ONLINE SCORES