Strauss's Die Liebe der Danae: reviews from Salzburg
(September 2016)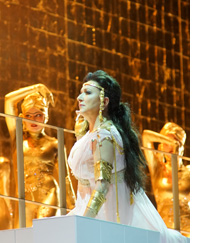 Strauss's late opera Die Liebe der Danae has special links with the Salzburg Festival, which staged a new production this summer revealing its musical glories.
This summer's Salzburg Festival saw a welcome return of Strauss's late opera Die Liebe der Danae, gracing the same stage as at its posthumous premiere in 1952, three years after the composer's death. Though completed in 1940, with theatres closed in wartime Europe, Strauss only heard Danae at a private dress rehearsal in Salzburg in 1944, commenting to the Vienna Philharmonic players "Gentlemen, perhaps we shall meet again in a better world!" The new production by Latvian stage director Alvis Hermanis was conducted by Franz Welser-Möst with a cast including Krassimira Stoyanova and Tomasz Konieczny.

"This penultimate opera by Strauss conflates two myths: Jupiter's attempted seduction of the lovely Danae, and the story of Midas, the king with the problematic golden touch. At the start, boisterous creditors heckle King Pollux, Danae's debt-ridden father, demanding payment. Then Danae has a wondrous dream of being showered in gold – not just a fantasy of wealth, but a hope for emotional riches and spiritual rebirth… Does she go for wealth and godliness with Jupiter, or for human affection with Midas?... Jupiter learns that the gods, alas, can never know human love."
New York Times

"This new production imbues the opera with a requisite splendour and conceptual depth that fully complements the surpassing complexities and difficulties of the Strauss score… Die Liebe der Danae is ultimate Strauss demanding ultimate virtuosity and bravura on all levels, most certainly from the singers."
Opera Today

"Concerning the music, everything in this work is remarkable: the score is masterful, the musical language is as brilliant as in the composer's best operas. The last 20 minutes – an attempt to seek refuge in pure tonality, sound and melody – count among the very best from Strauss's pen, and are beguilingly beautiful."
Kurier

In addition to the new Salzburg staging, productions of Die Liebe der Danae have included Günter Kramer's for the Semperoper in Dresden in 2005 and Kirsten Harms's for the Deutsche Oper in Berlin, revived last season and released on DVD. A staging for Bard SummerScape in 2011 prompted a North American reappraisal of the opera and concert performances in Garmisch and at Frankfurt Opera were mounted to celebrate the composer's 150th anniversary in 2014.
> Further information on Work: Die Liebe der Danae
Photo: Salzburg Festival/Forster
> News Search
Mailing List
Sign up for news updates and offers via email
SIGN UP
ONLINE SCORES