Stravinsky's Funeral Song: Decca announces first recording
(November 2017)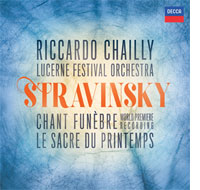 The first recording of Stravinsky's rediscovered Funeral Song has been announced by Decca. Due for release on 12 January the all-Stravinsky album features Riccardo Chailly conducting the Lucerne Festival Orchestra.
A work by
Igor Stravinsky
which many believed lost forever, is being brought back to life in spectacular style as Decca Classics announces the world premiere recording of the composer's recently-discovered
Funeral Song
. The historic new album, to be released on 12 January 2018, features world-renowned conductor Riccardo Chailly and the Lucerne Festival Orchestra – their debut album together and the start of an exciting new partnership.
>
Listen to an excerpt from the new recording
The new album restores the lost
Funeral Song
in its original Stravinsky opus sequence, alongside contemporary orchestral works and a stunning new version of
The Rite of Spring
. Together, these pieces offer a captivating insight into the early work one of the most important and influential composers of the 20th century.
Funeral Song
, a 10-minute work for symphony orchestra, was composed in the summer of 1908 by Stravinsky (then 26) as a memorial tribute to his beloved teacher Nikolay Rimsky-Korsakov and, as his op.5, is the missing link between his early
Fireworks
and
Scherzo Fantastique
(both featured on the new album) and his ballet
The Firebird
, written for Diaghilev's Ballets Russes, which launched Stravinsky's international career.
Funeral Song
was feared lost because, as Stravinsky noted in his book
The Chronicle of My Life
, "the score of this work unfortunately disappeared in Russia during the Revolution, along with many other things which I had left there". However, the work was unearthed in 2015 thanks to musicologist Natalia Braginskaya and the St Petersburg Rimsky-Korsakov State Conservatory's librarian Irina Sidorenko. A complete set of uncatalogued orchestral parts of
Funeral Song
was identified in a back room of the archive during a refurbishment of the old conservatoire building and subsequently a full score was reconstructed for live performance, in collaboration with Stravinsky's publisher, Boosey and Hawkes.
Stravinsky's
Funeral Song
received its first performance in 107 years in December 2016, conducted by Valery Gergiev at the Mariinsky Theatre in St Petersburg. Just a few months later, the work was recorded with Chailly and the Lucerne Festival Orchestra – marking the first album in their new recording partnership. It was recorded on 19 August 2017 at the Summer Festival of Lucerne Festival.
Dr. Alexander Buhr, Managing Director of Decca Classics, comments:
"It is a rare treat to discover a new piece by one of the great composers, especially one of such quality and historical significance as Stravinsky's
Funeral Song
. It has been a privilege to collaborate with Maestro Chailly, the Lucerne Festival Orchestra and Boosey & Hawkes on this world premiere recording and we are proud to add another landmark album to the rich Decca catalogue."


Chailly and the Lucerne Festival Orchestra offer a thrilling new account of Stravinsky's
Funeral Song
. To hear the work on this new album, together with Stravinsky's three previous orchestral works, allows the listener to follow the young composer on his route to worldwide success. Stravinsky himself called it, "the best of my works before
The Firebird
, and the most advanced in chromatic harmony." Now its musical significance can be appreciated by listeners around the world today, with the release of this historic world premiere recording.
A study score of
Funeral Song
is published by Boosey & Hawkes and is now available on sale from
The Shop at Boosey.com
.
>
Pre-order the recording from Decca
> Further information on Work: Funeral Song (Pogrebal'naya Pesnya)
> News Search
Email Newsletters
Sign up for news updates and offers via email
SIGN UP
ONLINE SCORES