The Rite of Spring's 100th Birthday
(May 2013)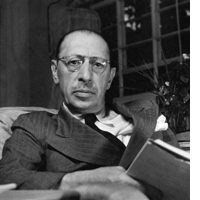 The most influential work of the 20th century is celebrated by organizations worldwide
May 29, 1913. It was a Thursday.
Igor Stravinsky's seminal work
The Rite of Spring
caused quite the stir in Paris—and around the world—after its premiere at the Théâtre des Champs Elysées. With choreography by famed dancer Vaslav Nijinsky, the work changed the landscape of music and dance for generations to come and the world has not looked back since.
This year, a number of organizations are presenting
The Rite of Spring
in special performances, paying tribute to a work that has served as an inspiration to musicians across the globe. In the US, perhaps the most substantial series of events is
The Rite of Spring at 100
, a season-long celebration presented by Carolina Performing Arts and the University of North Carolina at Chapel Hill. Artistic collaborators of the project include the Bill T. Jones/Arnie Zane Dance Company and SITI Company, Nederlands Dans Theatre I, puppeteer Basil Twist and the Orchestra of St. Luke's, the string quartet Brooklyn Rider, and others.
The Joffrey Ballet and the Martha Graham Dance Company were also recently featured at Chapel Hill (in March and in April, respectively). The Joffrey Ballet performed dance historian/choreographer Millicent Hodson's 1987 reconstruction of the original 1913 production of
The Rite of Spring
. Martha Graham's choreography to the ballet, premiered in 1984, was seen by audiences for the first time in 20 years.
Orchestras around the country are also gearing up for
Rite
performances—many have already taken place.
US events in the coming months include a "Birthday Party for
The Rite of Spring
" at Spoleto Festival USA in Charleston, SC on the actual centenary day (May 29), as well as performances at the Aspen and Grant Park Music Festivals and by the San Francisco Symphony, American Symphony Orchestra, New Jersey Symphony Orchestra, Alexandria Symphony Orchestra, Asheville Symphony Orchestra, Spartanburg Philharmonic Orchestra, and Lux Musicae and the NVC Repertory Dance Ensemble.
In honor of the centenary of Stravinsky's
The Rite of Spring
this year, the Paul Sacher Foundation in Basel, which houses the Stravinsky archive, is issuing a special Centenary Edition in collaboration with Boosey & Hawkes. Three volumes will be published for the first time: an annotated facsimile of the magnificent autograph full score, another of the composer's version for piano four-hands and a new collection of essays by leading Stravinsky scholars. (For more information,
click here
.)
> Further information on Work: The Rite of Spring
> News Search
Email Newsletters
Sign up for news updates and offers via email
SIGN UP
ONLINE SCORES