The Run Up to Adams's Girls of the Golden West
(April 2017)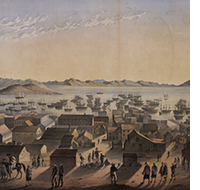 Since the announcement last summer that John Adams would be composing Girls of the Golden West, a new opera to be premiered in late 2017, more details about the highly anticipated production have been released.
One of the most hotly anticipated world premieres in the opera world,
John Adams
's
Girls of the Golden West
is set to debut on November 21, 2017 at San Francisco Opera. The production includes a run of eight performances from November 21 to December 10.
Since the announcement last summer, the composer has discussed more in depth the stage work's rich and colorful story, set during California's Gold Rush in the 1850s—a remarkable time of upheaval for the Bay Area. In an
interview
with San Francisco's KQED Arts, Adams describes certain themes in the opera that parallel current-day issues and trends:
This opera, which I was working on all during the [2016 US presidential] campaign, is based on the real, true facts of that era, and I discovered some interesting parallels. First of all, the people that came to California during the gold rush had been fed "fake news" by the media. All the journals and newspapers in the Midwest and the East even as far away as Europe were full of these bogus stories where all you had to do was get out here, and you could just bend over and pick up nuggets of gold and become immediately rich. […]My opera deals with a few very brave and feisty women who were out here, and some of the misogyny. The culminating event in this opera is an incident that took place in the tiny gold rush town of Downieville, which is just down the road from where I've had a cabin for the last 35 years. A young Mexican woman about 25 was being harassed by a drunken white gold miner, and she stabbed him and killed him. The whole town insisted on giving her an immediate trial, and then they hanged her from the bridge over the Yuba River.
[
Read the full KQED Arts interview here
.]
The libretto by longtime collaborator Peter Sellars is drawn from period sources including The Shirley Letters, vivid accounts of life at Rich Bar written by Louise Amelia Knapp Smith Clappe, using her pen name "Dame Shirley"; speeches by civil rights champion Frederick Douglass; poetry of Argentinian, Chilean and Chinese miners; songs of the period; and the journalistic writings of Mark Twain.
Details have been released about the extraordinary cast of singers who will lead the performances of the opera, including company debuts by soprano Julia Bullock (Dame Shirley), bass-baritone Davóne Tines (Ned Peters, an African-American cowboy and former slave drawn to the promise of the frontier), and baritone Ryan McKinny (Clarence, another miner and Joe Cannon's best friend); as well as return appearances by mezzo-soprano J'Nai Bridges (Josefa Segovia, a young Mexican woman who serves drinks and entertains the miners at The Empire Hotel in Rich Bar), tenor Paul Appleby (Joe Cannon, a miner whose desire for Josefa leads to a crisis in the camp), soprano Hye Jung Lee (Ah Sing, the Chinese courtesan who wishes to marry Joe), and baritone Elliot Madore (Ramón, bartender of The Empire Hotel). San Francisco Ballet principal dancer Lorena Feijoo stars as the mid-19th-century entertainer and celebrity Lola Montez, who was known for her provocative "Spider Dance." Adams has stated, "I am unusually excited about our cast for this world premiere. They are, in a lot of ways, a slam dunk."
Sellars anchors a creative team that is drawn from the worlds of opera, theater and cinema, including set designer David Gropman, costume designer Rita Ryack, lighting designer James F. Ingalls, sound designer Mark Grey and choreographer John Heginbotham. Conductor Grant Gershon will lead the cast, San Francisco Opera Orchestra, Chorus and Dance Corps.
Watch this video interview in which Adams and Sellars discuss with SFO General Director Matthew Shilvock their inspirations for the opera, their aim to delve deeply into a richer account of the Gold Rush era, and the themes that speak to contemporary issues today:
www.youtube.com/watch?v=qCbq1r3uAh4
> Further information on Work: Girls of the Golden West
Photo: Historic image of San Francisco, ca. 1850 (M.& N. Hanhart Chromo Lith, and Frank Marryat. San Francisco / S.F. Marryat, delt.)
> News Search
Mailing List
Sign up for news updates and offers via email
SIGN UP
ONLINE SCORES