Thom Willems: Forsythe ballets at Paris Opéra
(April 2016)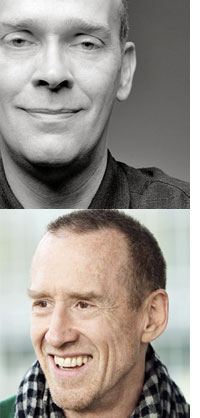 A William Forsythe programme at the Palais Garnier in Paris in July, celebrating his return to the Opéra as Associate Choreographer, includes two ballets with music by Thom Willems.
Thom Willems's close collaboration with choreographer William Forsythe is in the spotlight in July within a triple bill celebrating Forsythe's return to Paris Opéra Ballet as Associate Choreographer. The programme includes two danceworks with scores by the Dutch composer: the return of Approximate Sonata to Paris in a new version, and Of Any If And entering the company's repertoire for the first time.

Forsythe has created over 60 ballets with music by Willems since 1985, making their creative relationship draw comparisons with the special affinity between Balanchine and Stravinsky. Celebrated danceworks include In the Middle, Somewhat Elevated, commissioned by Rudolf Nureyev for Paris Opéra Ballet in 1987, which is now in the repertoire of virtually every major ballet house. 66 companies in 25 countries have performed Forsythe/Willems ballets, with Paris Opéra Ballet taking a special place, having danced 320 performances before the choreographer's return this season.

The original version of Approximate Sonata was created by Willems for the evening Six Point Counter at Frankfurt Ballet in 1996. This series of Solos and Pas-de-deux was intended to be danced to a trio by Beethoven but on the afternoon of the premiere Forsythe requested that the evening's performance should use new material. The pianist was presented with a basic score and through communication by microphone and earpiece she was guided through the performance as a conducted improvisation. The new version in Paris will feature a new score performed by Gerard Bouwhuis. Willems describes the background behaviour to the ballet with two quotes by footballing icon Johan Cruyff: "Coincidence is logical" and "simple is difficult".

Of Any If And is a Pas-de-deux created for Frankfurt Ballet in 1995. Willems created the 20-minute electronic tape from a piano sound, with all the lower resonances cut out and the remaining high resonances transposed three octaves up. The harmonies demonstrate references to Renaissance music and the text in performance is by Dana Caspersen and William Forsythe.

> Visit the Paris Opéra Ballet website

Approximate Sonata is also staged by the Nuremburg State Ballet from 30 April. Other Willems ballet highlights over the coming months include Hubbard Street Dance Chicago touring Germany with N.N.N.N, 11 performances of In the Middle, Somewhat Elevated by Australian Ballet at the Sydney Opera House and five performances at the Teatro Colón in Buenos Aires.
> Further information on Work: Approximate Sonata (1996)
Photos: Thom Willems (Jodokus Driessen) and William Forsythe (Dominik Mentzos)
> News Search
Email Newsletters
Sign up for news updates and offers via email
SIGN UP
ONLINE SCORES