Turnage: new quartet rocks with Led Zeppelin
(November 2010)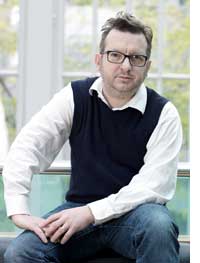 Mark-Anthony Turnage's new string quartet Twisted Blues with Twisted Ballad, commissioned for the Belcea Quartet, reflects the influence of rock band Led Zeppelin.
Mark-Anthony Turnage
's 50th birthday year ends with the international tour of his new work for string quartet,
Twisted Blues with Twisted Ballad
, composed in 2008 for the Belcea Quartet. As well as his large scale orchestral works, concertos and operas, Turnage has composed extensively for ensembles and chamber groups including the London Sinfonietta and the Nash Ensemble. However, this is his first composition purely for string quartet since an early withdrawn piece twenty years ago, and he has talked of how the "intimidating repertoire" for the medium has led him to search for "a different angle" in the new work, absorbing elements of rock music.
The work was commissioned by the Wigmore Hall, venue for the world premiere on 7 December, and co-commissioned by KölnMusik, the Concertgebouw Amsterdam and the Wiener Konzerthaus, with the support of André Hoffmann, president of the Fondation Hoffmann, a Swiss grant making foundation. Following the world premiere in London, the Belcea Quartet tours the work to the Philharmonie in Cologne (8 December), the Concertgebouw in Amsterdam (9 and 11 December) and the Konzerthaus in Vienna (12 and 13 December).
Together with
Grazioso!
for ensemble, and
Out of Black Dust
for brass group,
Twisted Blues with Twisted Ballad
is inspired by British rock band Led Zeppelin. This series of works, composed between 2007 and 2009, was prompted by Turnage getting to know Led Zeppelin's bass guitarist John Paul Jones. The composer rediscovered the group's albums afresh - in the 1970s he had been more interested in black soul music - and attended their reunion concert at the O2 in London in 2007.
Twisted Blues
, the first movement of the quartet, is based on an early Led Zeppelin song
Dazed and Confused
, taking the form of fantasia-like variants on fragments and riffs. The title of the contrasting central interlude,
Funeral Blues
, links to WH Auden's poem and is a tribute to Fausto Moroni, the late partner of the composer's mentor Hans Werner Henze. The final movement,
Twisted Ballad
, returns to Led Zeppelin with a set of reflections upon the modal melody of the song
Stairway to Heaven
, building upwards to a fierce climax.
Performances of Turnage's
Twisted Blues with Twisted Ballad
are presented with the full agreement and co-operation of Led Zeppelin and Warner Chappell.
Turnage's new opera
Anna Nicole
, created with librettist Richard Thomas of
Jerry Springer: the Opera
fame, receives its premiere at The Royal Opera in London on 17 February, in a production by Richard Jones conducted by Antonio Pappano. The opera examines the life and milieu of the American glamour model and actress Anna Nicole Smith (1967-2007), who became a celebrity icon and paparazzi target before her tragic death.
> Further information on Work: Twisted Blues with Twisted Ballad
Photo: Philip Gatward
> News Search
Mailing List
Sign up for news updates and offers via email
SIGN UP
ONLINE SCORES