US Premiere of Valtinoni's The Snow Queen for Children
(June 2017)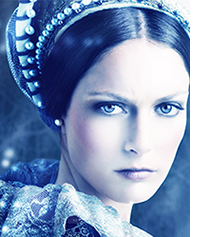 Pierangelo Valtinoni's The Snow Queen, a children's opera based on the Hans Christian Anderson fairytale that inspired Disney's Frozen, receives its first American performance on June 17.
Following a two-year sold-out run at the Komische Oper Berlin, as well as highly acclaimed European performances in Hamburg, Dresden, Umeå (Sweden), and Milan, Pierangelo Valtinoni's acclaimed opera
The Snow Queen
(
Die Schneekönigin
) travels to Tulsa Opera for its US premiere on June 17, led by conductor Aaron Beck. An English version of the libretto, created by Benjamin Gordon, was specifically commissioned for Tulsa Opera's production.
The Snow Queen
, with a libretto by longtime collaborator Paolo Madron, is based on a Hans Christian Andersen fairytale already well known to many children—it draws from the same story that inspired Disney's smash hit
Frozen
. Tulsa Opera's production features three adult professional singers (Bailee McHaney, Elizabeth Muzljakovich, and Tim Petty) alongside the 55 children of Tulsa Youth Opera,
accompanied by the Tulsa Opera Orchestra.
Valtinoni is well known for his fantastical operas for children, including
Pinocchio
(2001), one of the most performed contemporary children opera in Europe; and more recently,
The Wizard of Oz
(2015–2016), which enjoyed an enormously successful world premiere at Opernhaus Zürich in November 2016 and has become one of the most successful children's opera ever produced in the city.
Pinocchio
receives its Latin American premiere on June 15 at the Gran Teatro Nacional in Lima, Peru, and its Austrian premiere at the Vienna Volksoper this fall.
Valtinoni approaches the creation of these children's operas by writing music of different difficulty levels for young singers ranging from age 6 to 16; the children singers perform alongside professional singers and musicians in the orchestra, which has resulted in highly dynamic productions that have been celebrated widely across Europe.
[
Click here to learn more about the Boosey & Hawkes children's operas catalogue
.]
> Further information on Work: Die Schneekönigin
> News Search
Email Newsletters
Sign up for news updates and offers via email
SIGN UP
ONLINE SCORES