Unsuk Chin Highlighted at Miller Theatre
(March 2014)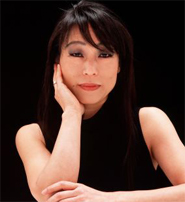 Portrait Concert to take place in New York on March 13
The Miller Theatre at Columbia University is more than a performance venue—it is a place of exploration. Each season, the Miller Theatre programs several "Composer Portrait" concerts which highlight the oeuvre of one individual. On Thursday, March 13, the spotlight turns towards the Korean-born composer Unsuk Chin. Chin, a recipient of numerous prizes including the Grawemeyer Award, Arnold Schoenberg Prize, Prince Pierre Foundation Music Award, and Ho-Am Prize, has been hailed for "making music that consistently sounds fresh and inspired" (Musical America) and creating a sound world that is "seductively cavernous" (The New Yorker).

The concert at Miller Theatre will feature the US premiere of her tape piece, Gradus ad infinitum (1989), as well as the New York premieres of the Double Concerto (2002) for piano, percussion, and ensemble and snagS&Snarls (2003–04) for soprano and ensemble. Also on the program will be Etudes No. 5 & No. 6 from her Six Piano Etudes (1999).

To watch a video about the Miller Theatre's 2013–14 Composer Portrait series, featuring an interview with Unsuk Chin, click here.

Performing on this concert will be mezzo-soprano Rachel Calloway, pianists Ning Yu and Oliver Hagen, percussionist Bill Solomon, and the acclaimed Ensemble Signal conducted by Brad Lubman. In addition to performances of the aforementioned works, there will be an onstage discussion with Unsuk Chin.

In February 2011, the Talea Ensemble featured Unsuk Chin in a composer portrait concert at the Bohemian National Hall in New York. The event included the New York premieres of Fantaisie mécanique and Allegro ma non troppo, alongside performances of the Piano Etudes and her ParaMetaString for string quartet and tape.

snagS&Snarls was recently given its Canadian premiere in Montreal by Kent Nagano and the Montreal Symphony Orchestra featuring Ekaterina Lekhina. In March, the work will be toured throughout Europe, stopping for performances in Austria, Spain, and Germany. In addition, Chin's new Clarinet Concerto will be given its world premiere on May 8 by Kent Nagano and the Gothenburg Symphony Orchestra, featuring clarinetist Kari Kriikku. The US premiere with Alan Gilbert and the New York Philharmonic will take place on September 23 in New York.
Photo: Eric Richmond
> News Search
Mailing List
Sign up for news updates and offers via email
SIGN UP
ONLINE SCORES