Unsuk Chin: composer feature at Eight Bridges in Cologne
(February 2017)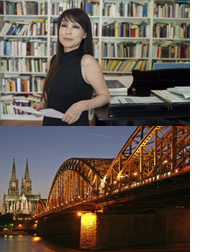 Korean-born composer Unsuk Chin is featured composer in May at the Eight Bridges festival in Cologne, one of Europe's leading celebrations of contemporary music.
The festivities at this year's Eight Bridges (Acht Brücken) in Cologne focus on the music of Unsuk Chin with 13 works spread across eight concerts (30 April - 7 May). This represents one of the largest retrospectives of the composer's work in Germany, her adoptive country following her studies in Hamburg with Ligeti from 1985 and relocation to Berlin in 1988. Highlights include performances of four of her concertos and two all-Chin profile concerts: the first by the Ensemble Intercontemporain and the second an orchestral programme by the SWR Symphony including a new suite from
Alice in Wonderland
for soprano and orchestra entitled
Puzzles and Games
.
Chin events in Cologne are launched with the composer in a lunchtime conversation on 30 April followed by an evening concert by the Bamberg Symphony under Jakub Hrusa with Chin's extraordinary concerto for sheng and orchestra,
Su
, featuring the remarkable vituosity of Wu Wei. The following days bring two vocal works demonstrating the composer's highly original approach to word-setting: her first major work
Acrostic-Wordplay
with soprano Yeree Suh and Das Neue Ensemble and
Cantatrix Sopranica
for three theatrically competitive high voices backed by Ensemble Musikfabrik under the direction of Peter Rundel.
Double Bind?
for violin and electronics forms part of a free event exploring how music and language cross cultural frontiers.
The Ensemble Intercontemporain's programme on 4 May conducted by Bruno Mantovani illustrates Chin's visionary quest for new soundworlds, from
Allegro ma non troppo
for percussion and tape through to the large-scale
Double Concerto
for piano and percussion.
Cosmigimmicks
employs an idiosyncratic ensemble of trumpet, violin, percussion, prepared piano and a plucked trio of harp, guitar and mandolin.
Gougalon
is a particularly personal score, drawing upon the composer's memories of growing up in Seoul where she observed street theatre artists with their stunts and magical quackery, and the work is rightly regarded as one of her finest achievements.
The final day of the festival on 7 May brings three orchestral concerts featuring Chin's music. Francois-Xavier Roth is on the rostrum for a sea-flecked morning programme linking her recent
Le Silence des Sirènes
to music by Britten and Debussy. Two further performances of this programme take place in the Gürzenich Orchestra's series at the Philharmonie on 8 and 9 May. The afternoon concert features Tanja Tetzlaff as soloist in Chin's
Cello Concerto
with the Cologne Music Hochschule Orchestra. The final evening profile concert features the SWR Symphony Orchestra and Tito Ceccherini in the
Piano Concerto
with Sunwook Kim as soloist,
Graffiti
for chamber orchestra and the new
Puzzles and Games
suite from Chin's opera
Alice in Wonderland
with Siobhan Stagg as soprano soloist.

Unsuk Chin feature at the
Eight Bridges festival in Cologne
30 April 2017, 12.30, Philharmonie
Unsuk Chin in conversation with Louwrens Langevoort
30 April 2017, 18.00, Philharmonie
Šu
Wu Wei, sheng/Bamberg Symphony/Jakub Hrusa
1 May 2017, 11.00, Philharmonie
Acrostic-Wordplay
Yeree Suh/Das Neue Ensemble/Stephan Meier
1 May 2017, 18.00, WDR Funkhaus
Double Bind?
Jenna Sherry/Experimental Studio of SWR
2 May 2017, 20.00, WDR Funkhaus
Cantatrix Sopranica
Ensemble Musikfabrik/Peter Rundel
4 May 2017, 20.00, Philharmonie
Cosmigimmicks / Double Concerto /
Allegro ma non troppo / Gougalon
Ensemble Intercontemporain/Bruno Mantovani
7 May 2017, 11.00, Philharmonie
Le Silence des Sirènes
Donatienne Michel-Dansac, sop/
Gürzenich Orchestra/François-Xavier Roth
7 May 2017, 15.00, Hochschule for Music and Dance
Cello Concerto
Tanja Tetzlaff, vlc/
Orchestra of the Cologne Hochschule/Alexander Rumpf
7 May 2017, 20.00, Philharmonie
Puzzles and Games from 'Alice in Wonderland' /
Piano Concerto / Graffiti

Siobhan Stagg, sop/Sunwook Kim, pft/
SWR Symphony Orchestra/Tito Ceccherini
www.achtbruecken.de/en/
> Further information on Work: Puzzles and Games from Alice in Wonderland
Photos: Priska Ketterer / WikiCommons (Thomas Robbin)
> News Search
Email Newsletters
Sign up for news updates and offers via email
SIGN UP
ONLINE SCORES