Unsuk Chin concertos with BBC Scottish Symphony
(November 2015)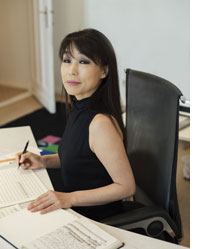 Three of Unsuk Chin's virtuosic concertos - for sheng, clarinet and violin - provide a feature spanning the BBC Scottish Symphony Orchestra's season.
The BBC Scottish Symphony Orchestra's 2015/16 season includes a special feature on
Unsuk Chin
, with three of her concertos programmed at the City Halls in Glasgow with the three virtuoso soloists for which the works were composed. The South Korean-born composer, now resident in Berlin, is one of the most original compositional voices at work today, and she has made something of a speciality in writing concertos that stretch the boundaries of virtuosity and sonic imagination.
The composer's unique fusing of Eastern elements with Western compositional techniques is most apparent in
Su
, her concerto for sheng and orchestra, which Wu Wei performs on 5 November in Glasgow conducted by Markus Stenz. The sheng is a Chinese mouth organ with 37 bamboo pipes, which like an accordion can play harmonies as well as melodies. Chin's concerto sees both solo instrument and orchestra building vivid sonorities that are close to the soundworld of electronic music.
Su
has become one of Chin's most widely travelled works with 40 performances in 20 countries since its premiere in 2009 and an award-winning Deutsche Grammophon recording released last year, all with soloist Wu Wei.
>
Unsuk Chin introduces her sheng concerto on the BBCSSO website
The most recent of Chin's concertos, premiered last year, was written for Finnish clarinettist Kari Kriikku who performs it in Glasgow on 14 January with the orchestra's Principal Guest Conductor Ilan Volkov. Kari Kriikku has played the
Clarinet Concerto
in Gothenburg, New York, Cologne, Barcelona, Malmö and London to date, with further performances scheduled this season in Helsinki and Amsterdam. The
Financial Times
, reviewing the recent London performance described how the solo clarinet part in the outer movements "is a restless display of the nearly possible - volatile, playful, naughty, ghostly" and how "in the middle movement comes a dream, perhaps on the edge of nightmare, that emerges out of silence... the concerto feels like a musical, out-of-body experience."
Chin's
Violin Concerto
was the first of her concertos to attract international acclaim, winning the prestigious Grawemeyer Award for Composition in 2004. The Glasgow performance on 7 April features violinist Viviane Hagner, who premiered the work and recorded it on the Analekta label, together with the BBC Scottish Symphony Orchestra conducted by Ilan Volkov. The work explores the very essence of the solo instrument growing out of open string fifths to fill the sonic space with harmonic overtones. The Glasgow concert will present the work's 50th performance since its premiere in 2002: many performances have featured Viviane Hagner as soloist, while others have attracted violinists such as Christian Tetzlaff, Renaud Capuçon, Hae-Sun Kang and Jennifer Koh.
All three concerto performances will be recorded in Glasgow for broadcast on BBC Radio 3.
>
View a video introduction to Unsuk Chin's music
> Further information on Work: Šu
Photo: Priska Ketterer
> News Search
Mailing List
Sign up for news updates and offers via email
SIGN UP
ONLINE SCORES