Unsuk Chin feature at Festival d'Automne in Paris
(September 2015)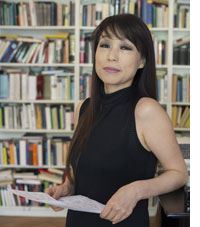 The Festival d'Automne in Paris presents a major series of performances of Unsuk Chin's music, including six French premieres.
South Korean-born composer
Unsuk Chin
travels to Paris for a special portrait feature on her music at the Festival d'Automne between 9 October and 27 November. Four concerts at the Maison de la Radio and Cité de la Musique include 10 works ranging from her earliest success
Acrostic-Wordplay
to more recent scores including
Gougalon
and
Graffiti
.
Chin has a special relationship with Parisian musical life having enjoyed a series of six commissions from the Ensemble Intercontemporain leading to a Deutsche Grammophon recording (now available on Kairos) and spending time working in the IRCAM electronic studio. Her works also display a markedly French sensitivity to colour and often employ harmonic techniques influenced by the French spectralist composers. Her music has been previously presented in Paris concert series by the EIC, Radio France, Festival Presences, IRCAM, Pompidou Centre and Cité de la Musique.
The orchestral concert on 9 October sees the Orchestre Philharmonique de Radio France conducted by Kwamé Ryan in three major Chin scores, the
Cello Concerto
with Isang Enders, the
Piano Concerto
with Sunwook Kim and the kaleidoscopic orchestral work
Rocaná
, all French premieres. The following day's concert sees the Nieuw Ensemble from Amsterdam in the French premiere of cosmigimmicks, her 'musical pantomime' for seven instrumentalists, written for and premiered by the ensemble. This is coupled with the wordgames and mirror reflections of
Acrostic-Wordplay
with Yeree Suh as soprano soloist, and one of her most travelled recent works,
Gougalon
, a set of 'scenes from a street theatre' observed during her youth in Seoul, that was heard for the first time in its complete form in Paris in 2012.
An early evening concert on 27 November presents chamber works including
Allegro ma non troppo
for percussion and electronic tape and Chin's scintillating series of
Piano Etudes
. The main evening concert with the Ensemble Intercontemporain conducted by Tito Ceccherini includes the
Double Concerto
for piano and percussion with Sebastian Vichard and Samuel Favre as soloists, and the French premiere of Chin's chamber orchestra work
Graffiti
dating from 2012/13, inspired by the sudden shifts and visual surprises of street art.
>
Visit the Festival d'Automne website
Other Chin highlights this season include first performances of her
Clarinet Concerto
in London (22 October), Helsinki (26 November), Glasgow (14 January 2016) and Amsterdam (30 April 2016), all with Kari Kriikku as soloist, and the US premiere of
Mannequin
by the Boston Symphony Orchestra (5 Nov)

Unsuk Chin portrait 2015
at Festival d'Automne

9 October 2015, 20.00
Maison de la Radio
Cello Concerto
/
Piano Concerto
/
Rocaná
(French premieres)
Isang Enders, vlc/Sunwook Kim, pft/Orchestre Philharmonique de Radio France/Kwamé Ryan
10 October 2015, 16.00
Maison de la Radio
Acrostic-Wordplay
/
cosmigimmicks
(French premiere) /
Gougalon
Yeree Suh, sop/Nieuw Ensemble Amsterdam/Ed Spanjaard
27 November 2015, 18.30
Cité de la Musique
Allegro ma non troppo
/
Piano Etudes
Victor Hanna, perc/Dimitri Vassiliakis, pft
27 November 2015, 20.30
Cité de la Musique
Double Concerto
/
Graffiti
(French premiere)
Sebastian Vichard, pft/Samuel Favre, perc/Ensemble Intercontemporain/Tito Ceccherini
> Further information on Work: Gougalon
Photo: Priska Ketterer
> News Search
Mailing List
Sign up for news updates and offers via email
SIGN UP
ONLINE SCORES