Unsuk Chin presents Philharmonia's Music of Today
(November 2011)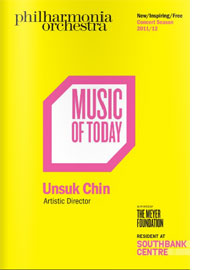 Unsuk Chin is the new Artistic Director of the Philharmonia Orchestra's Music of Today series, launched at the Royal Festival Hall in London on 24 November.
The opening concert in the Philharmonia Orchestra's Music of Today series on 24 November is also the first programmed by its new Artistic Director, Unsuk Chin. The South Korean-born, Berlin-resident composer presents five concerts this season, introducing UK premieres by Johannes Schöllhorn, Ivan Fedele, Ondrej Adámek and Perttu Happanen, a major work by French master Gérard Grisey, and a Young Composers Academy presented with support from The Royal Philharmonic Society.

All concerts are free and take place at 6pm in the Royal Festival Hall at the Southbank Centre in London, preceding a concert by the Philharmonia Orchestra. Performances feature an ensemble of players drawn from the orchestra, and Unsuk Chin presents the concert from the platform with perspectives from the composers and performers. Chin describes her first series as "a season full of surprises and pleasures... showing in various ways that contemporary music can be both boldly inventive and directly communicative".

> View the Music of Today brochure

As Artistic Director of Music of Today, Unsuk Chin succeeds James MacMillan and Julian Anderson. She continues as composer-in-residence with the Seoul Philharmonic Orchestra and Artistic Director of its contemporary music series. The Philharmonia Orchestra presents Chin's Grawemeyer Award-winning Violin Concerto on 15 March at the Royal Festival Hall, conducted by Esa-Pekka Salonen with Viviane Hagner as soloist.

Unsuk Chin was born in 1961 in Seoul, South Korea, and has lived in Berlin since 1988. Her music has attracted international conductors including Simon Rattle, Gustavo Dudamel, Kent Nagano, David Robertson, Peter Eötvös, Neeme Järvi, Markus Stenz, Myung-Whun Chung, George Benjamin, Susanna Mälkki, François -Xavier Roth, Leif Segerstam and Ilan Volkov, among others. It is modern in language, but lyrical and non-doctrinaire in communicative power. Chin has received many honours, including the 2004 Grawemeyer Award for Music Composition, the 2005 Arnold Schoenberg Prize and the 2010 Prince Pierre Foundation Music Award.

Highlights for Unsuk Chin this season include Simon Rattle conducting Acrostic-Wordplay with players from the Berliner Philharmoniker (December), first performances of the complete version of Gougalon by the Ensemble Intercontemporain in Paris and Bonn (March 2012), Canadian and French premieres of her sheng concerto Su (April and June), and the US premiere of her opera Alice in Wonderland at the Opera Theatre of Saint Louis (June).

> Further information on Work: Violin Concerto
> News Search