WGBH Launches Classical.org with "The Bernstein Experience"
(January 2018)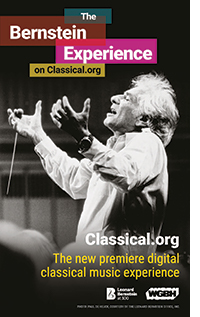 Classical.org, WGBH's new online classical music entertainment experience, celebrates the Leonard Bernstein Centennial throughout its first year. The site will feature exclusive Bernstein-related archival material, interviews and recordings, as well as a 24/7 digital stream of music by Bernstein and audio of Bernstein conducting or performing.
On January 25, 2018,
WGBH debuts
Classical.org
, its new digital classical music entertainment experience.
A media partner and official digital partner of the Leonard Bernstein Centennial, WGBH will devote the first year of Classical.org to
The Bernstein Experience
—celebrating the life, music and legacy of legendary American composer and conductor, Leonard Bernstein.
"The opportunity to launch a site with the potential of Classical.org by paying tribute to Leonard Bernstein is a once-in-a-century thing," said Anthony Rudel, Executive Director of Classical.org and Station Manager of 99.5 WCRB, Classical Radio Boston. "Working with the Bernstein family, we have built a site that captures the incredible creative power of Maestro Bernstein. That energy and creativity will transfer beautifully when we relaunch Classical.org later this year as a national site that will grow the audience for classical music, something Bernstein himself did so well."
The Bernstein Experience
on Classical.org will be centered around "The Bernstein Channel," a 24/7 digital stream of curated music that will blend Bernstein compositions conducted by the composer and by others, with recordings of music by other composers that Bernstein conducted or played at the piano. The stream will feature introductions by guest hosts and regular contributors, as well as additional information and historical context about the Bernstein Centennial.
In partnership with The Leonard Bernstein Office and the Bernstein family, and contributions from artists, celebrities and fans around the globe,
The Bernstein Experience
on Classical.org will be the go-to digital entertainment experience for the centennial celebration of this American icon.
"My brother, sister and I are thrilled that the launch of Classical.org is devoting its inaugural year to celebrating our dad's centennial," says Jamie Bernstein, eldest daughter of Leonard Bernstein, referencing siblings Alexander Bernstein and Nina Bernstein-Simmons.
"This 100th birthday celebration is a wonderful way to remind those who grew up with Leonard Bernstein about what an amazing, multifaceted person he was. Perhaps even more importantly, it also provides an ideal opportunity to introduce our father to a new generation—and Classical.org is uniquely qualified to spread the multimedia message."
The Bernstein Experience
on Classical.org will feature a combination of exclusive archival material and new content, including interviews, photos and recordings related to Bernstein, all presented in a stunning, user-friendly design, with curated thematic collections and new features published throughout the year.
After the Bernstein Centennial concludes, Classical.org will offer multiple music streams, expanded features and fresh digital experiences that entertain, educate and inspire, all geared toward increasing the audience for classical music.
> Full press release:
https://bernstein.classical.org/press
Photo: Courtesy of WGBH
> News Search
Email Newsletters
Sign up for news updates and offers via email
SIGN UP
ONLINE SCORES