World Premiere Recording of Steve Reich's Pulse / Quartet Releases February 2
(December 2017)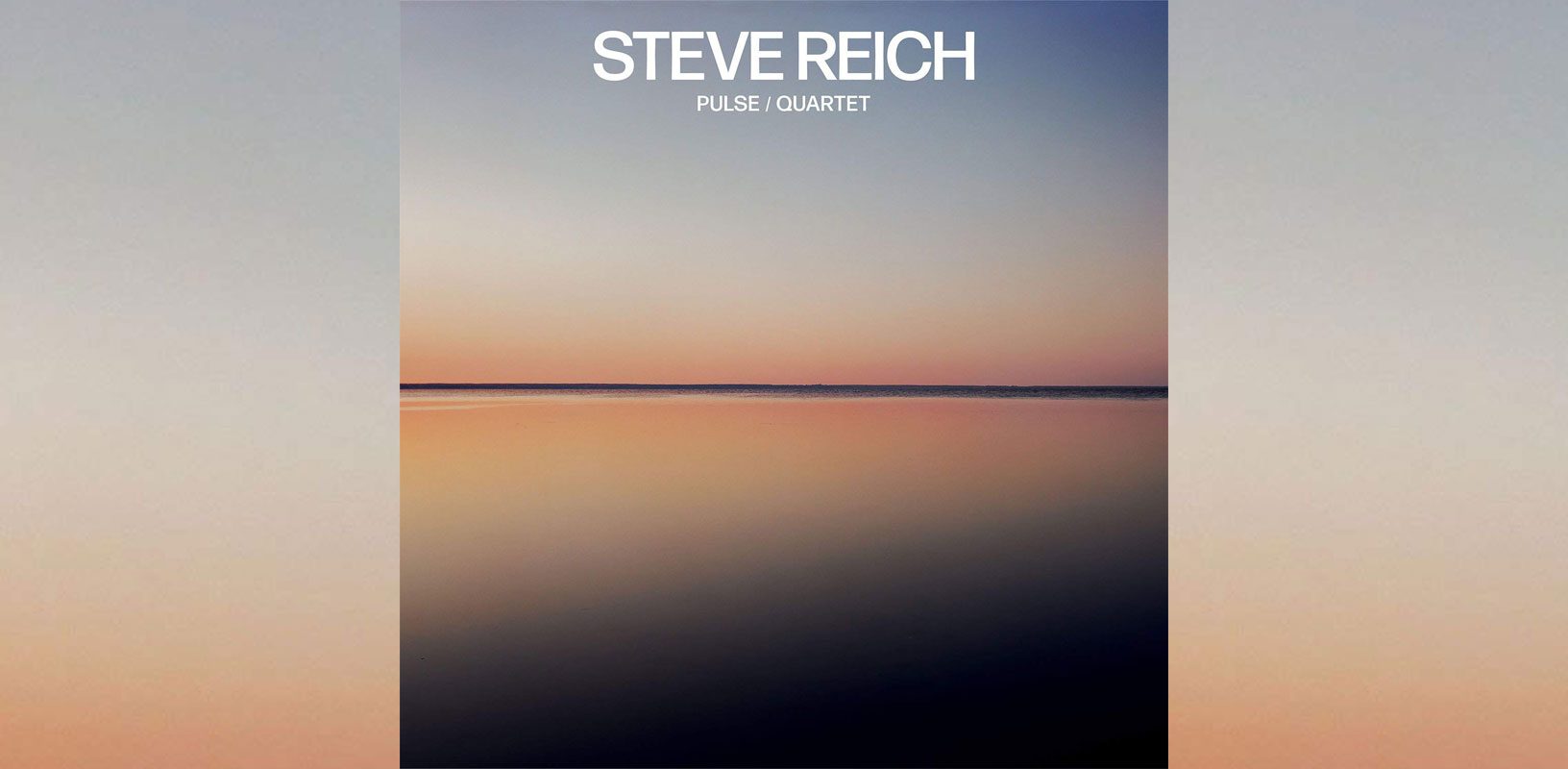 Nonesuch Records releases a world premiere recording of recent Reich works, featuring International Contemporary Ensemble and Colin Currie Group.
Nonesuch releases Steve Reich's Pulse / Quartet on February 2, 2018; the album is also available on vinyl LP on March 30. The album features two recent works by Reich: Pulse (2015) for large ensemble, performed by the International Contemporary Ensemble (ICE), and Quartet (2013) for two pianos and two vibraphones, performed by the Colin Currie Group, an ensemble led by percussionist Colin Currie that specializes in the music of Steve Reich. Pulse / Quartet is available to pre-order at iTunes and the Nonesuch store, where an instant download of the third movement of Quartet, Fast, is available.

ICE, called "the new gold standard for new-music" by The New Yorker, performed the world premiere of Pulse in November 2016 at Carnegie Hall's "Reich at 80" celebration concert. Quartet was written for Colin Currie and was premiered by the Colin Currie Group in October 2014 at London's Southbank Centre.

Reich has stated that Quartet is one of the more complex works he has composed; the work frequently changes key and often breaks off continuity to pause or take up new material. Pulse—which the composer calls "a calmer, more contemplative piece"—was in fact composed in response to the complexity of Quartet.

Reich explains this connection between the works:
Pulse, for winds, strings, piano, and electric bass, was completed in 2015 and was, in part, a reaction to Quartet, in which I changed keys more frequently than in any previous work. In Pulse I felt the need to stay put harmonically and spin out smoother wind and string melodic lines in canon over a constant pulse in the electric bass and or piano.

Steve Reich has been called "our greatest living composer" (The New York Times) and "the most original musical thinker of our time" (The New Yorker). His path has embraced not only Western Classical music, but the structures, harmonies, and rhythms of non-Western and American vernacular music, particularly jazz. "There's just a handful of living composers who can legitimately claim to have altered the direction of musical history and Steve Reich is one of them," states the Guardian. In April 2009, Steve Reich was awarded the Pulitzer Prize in Music for his composition Double Sextet. Nonesuch has released 23 Steve Reich albums, beginning in 1985 with The Desert Music and including two box sets; his most recent album was Radio Rewrite (2014).

Reviews for Pulse

Guardian
"Pulse felt like a rapturous extended song—one with enough confidence to end with the feel of reverie, as opposed to Reich's traditional headlong-rush climax"

Los Angeles Times
"The lyricism, gorgeous instrumental textures and affecting harmonies are not exactly easy listening but genially and spiritually alluring. The genius of Pulse is that you never really know where the score is going, just why it is going there."

The Arts Desk
"Pulse (2015), a UK premiere, turned out to be an unexpected pool of tranquillity in an oeuvre marked by dynamic menace."

The Times
"If there has long been a sense that Reich's early work is his best, the European premiere of Pulse (2015) … gives pause for thought."

New York Classical Review
"Beauty is a consistent quality of Reich's recent music, and the most beautiful of all has to be Pulse, which was simple and luminous … At the bottom of Pulse was a constant eighth-note throb from an electric bass through shifting meters. On top, there was a marvelous long-limbed, lyrical melody, repeated at times in tutti, at others in a closely mirrored canon."

Reviews for Quartet

The New York Times
"Written for two vibraphones and two pianos, the 17-minute Quartet is Mr. Reich's first piece for those two instruments alone, and the combination is ingenious and seductive, and deployed with subtle craftsmanship … The work has an alert, jazzy, urban character—suavely melancholy in its nocturnal slower middle section, with angular yet genial rhythms that evoke Broadway."

The Guardian
"Relaxed, intimate and bittersweet in mood, it's a chamber work in essence, written with the kind of egalitarianism between the musicians that we often find in string quartets as the emphasis shuttles fluidly from one player, or combination of players, to the next."

The Telegraph
****
"In the brand-new Quartet for two vibraphones and two pianos, written specially for Colin Currie, one felt something different. The melody, touched in delicately by Currie and Sam Walton on vibraphones, seemed to be sung rather than struck. It was like a dancing song of praise, and suddenly we seemed to be somewhere ancient."

Financial Times
"Quartet … connects with a specifically American tradition, at times fleetingly echoing Bernstein or even Sondheim."

Boosey & Hawkes Composer News