World Premiere of Bettison's Lights in Ashes with New World Symphony
(April 2017)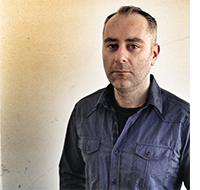 On April 29, the New World Symphony gives the world premiere of Oscar Bettison's Lights in Ashes. The work is an orchestration of the last movement of Bettison's "requiem masque," O Death, from 2005–2007.
Oscar Bettison
's
Lights in Ashes
, written for chamber orchestra and tape, receives its world premiere on Saturday, April 29 at 7:30 PM with the New World Symphony, America's Orchestral Academy, conducted by NWS Fellow Dean Whiteside. The premiere is presented as part of the New World Symphony's sixth annual "New Work" program. The centerpiece of the institution's season, the "New Work" program is dedicated to commissioning and premiering of new works by high-profile and developing artists across a range of genres, intersecting music with theater, dance, poetry, video, lighting, and other art forms.
Lights in Ashes
is an orchestral reimagination of the seventh and final movement of Bettison's eveninglong piece
O Death
for ensemble and electronics from 2005–2007.
O Death
was inspired by a folksong of the same name, in which a young person pleads with Death not to "take them so soon." Drawing parallels between the song's sentiment to parts of the Requiem Mass, Bettison grafted elements of popular and blues music onto the Requiem Mass structure, leading to the creation of an extensive 70-minute work Bettison calls his "requiem masque." A critically acclaimed commercial release of
O Death
was recorded by Ensemble Klang and released in 2010.
Lights in Ashes
's title comes from a line in Sir Thomas Browne's 1658 book,
Hydriotaphia, or Urne-Buriall
: "Since our longest Sunne sets at right descensions, and makes but winter arches, and therefore it cannot be long before we lay down in darknesse, and have our lights in ashes."
In its new larger-scale version,
Lights in Ashes
has been arranged for 23 musicians and pre-recorded audio. The orchestration preserves the music from the original chamber ensemble version, though Bettison composed new material for the opening section. The composer explains that he chose to "add some space that I felt this piece, as a standalone movement, needed."
On the same day that the New World Symphony premieres
Lights in Ashes
, Ensemble Klang will also be premiering a new version of Bettison's
Presence of Absence
at the Peabody Institute in Baltimore.
Presence of Absence
received its world premiere in October 2016 at the Dag in de Branding Festival in the Netherlands.
> Further information on Work: Lights in Ashes
Photo: Sarah Bettison
> News Search
Mailing List
Sign up for news updates and offers via email
SIGN UP
ONLINE SCORES