World Premiere of Meredith Monk's Cellular Songs at BAM
(February 2018)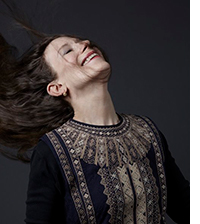 Cellular Songs receives its world premiere at the Brooklyn Academy of Music in March. This is the latest in a series of works by Monk that draws inspiration from the natural sciences.
Meredith Monk's latest music theater piece
Cellular Songs
receives its world premiere at the Brooklyn Academy of Music's BAM Harvey Theater on March 14, with additional performances through March 18. BAM has been an ardent and longtime champion of Monk's, having presented major artistic projects, including her mixed-media theater piece
Quarry
in 1976, her opera
Atlas
in 1992, and more recently
Songs of Ascension
in 2009 and
On Behalf of Nature
in 2014.
Cellular Songs
pairs voice with movement, instrumentation, and a site-specific video installation to investigate the interconnected relationship between humans and the natural world. The piece draws inspiration from human cell activity such as layering, replication, rotation, division, and mutation, and also explores the larger picture codependence of the human condition with the nature surrounding it.
Notably, the work features an all-female group of performers: Monk and the four women of her acclaimed Vocal Ensemble (Ellen Fisher, Katie Geissinger, Allison Sniffin, and Jo Stewart).
Cellular Songs
was developed during residencies at Jim Hodges' Queenslab (June 2017), Wesleyan University (November 2017), and most recently at Grace Farms in New Canaan, Connecticut (January 2018). At the end of each residency, Monk presented a work-in-progress performance to the public. The presentation at BAM will be the official world premiere of the work after two years of development.
Watch an excerpt from
Cellular Songs
, performed by Meredith Monk, Katie Geissinger, Allison Sniffin:
https://www.youtube.com/watch?v=juU2UcKcITo
Photo: Julieta Cervantes
> News Search
Email Newsletters
Sign up for news updates and offers via email
SIGN UP
ONLINE SCORES