Music While you Surf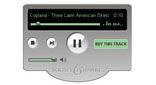 Explore the best classical music with our free radio player
LISTEN NOW
The Last Supper: Three Latin Motets (2000)


Plays: 5011
Buy Related Products
Three Latin Motets for 18-part mixed choir a cappella
At the meditative core of Harrison Birtwistle's new stagework, The Last Supper, are the Three Latin Motets which cut across the physical action on stage. The composer describes these as "three visions taking us back to Christ's time, The Crucifixion, the Stations of the Cross and The Betrayal, which take us in reverse order through events in Jerusalem. The opera ends with Christ in the garden saying "Whom do you seek", and then the cock crows. It's where we're being led."
In the stagework the Three Latin Motets are heard on pre-recorded tape. They can also be performed live in concert, and a choral score is now available on sale.
I. The Crucifixion (complete)
Duration: 04 mins 54 secs
RIAS-Kammerchor, Deutschland Radio Berlin
© Deutsche Staatsoper Berlin
Text heard on Sample:
O bone Jesu, exaudi me,
et ne permittas me separari a te;
O good Jesus, hear me
and do not allow me to be separated from You
Further Information on this Work:
Any reproduction, publication, further distribution or public exhibition of audio materials provided at this site, in whole or in part, is strictly prohibited.