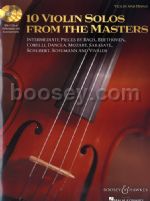 Various - 10 Violin Solos from the Masters
Intermediate pieces by various famous composers
description: Violin, Piano
ISMN 9790051105281
Publisher Boosey & Hawkes (New York)
Availability: Stock Title
Level of Difficulty: Intermediate
Intermediate pieces for violin and piano by various composers (Bach, Beethoven, Corelli, Dancla, Mozart, Sarasate, Schubert, Schumann and Vivaldi).

With 2 companion CDs of performances and accompaniments to help today's young violinist!
Contents

Adagio and Allegro from Sonata, K. 379 (Mozart)
Air varie on a theme by Donizetti, Op. 89, No. 4 (Dancla)
Allegro from Sonata in B minor (Bach)
Andante Scherzoso from Sonata, P. 23 (Beethoven)
Berceuse, Op. 16 (Faure)
Finale from Sonatina, Op. 137, No. 3 (Schubert)
Largo from Winter, The Four Seasons (Vivaldi)
Phantasiestuck, Op. 73 (Schumann)
Playera from Spanish Dances, Op. 23 (Sarasate)
Scherzo from Sonata, Op. 30, No. 2 (Beethoven)
---
There are currently no reviews for this product.
[Tell us what you think]