<% dim path iTopNav_Index = 1 sTitle = "UniversityAndCollege" ReDim aCrumbs(1) ReDim aCrumbLinks(1) aCrumbs(0) = "Home" aCrumbLinks(0) = "/" aCrumbs(1) = "Composers" aCrumbLinks(1) = "/pages/cr/" call connopen call nav_top %>
Music for university & college
Musical resources for those teaching, studying or training at colleges, universities and conservatoires. Explore our selection of study scores, full scores in the Masterworks series, and publications for students and instrumental training.
Explore our range of scores
Explore a wide range of scores for libraries, students and conductors, from full scores to study scores.

Landmark 20th century works published in full score size but at pocket score prices! Each score features newly published introductory notes, commentaries and illustrations. Featured composers include Bernstein, Copland, Rachmaninoff and Stravinsky.

A music publishing classic! Hawkes Pocket Scores have become synonymous with the best in 20th century music. The range now includes over 350 works by 20th century masters such as Bartók, Bernstein, Copland, Prokofieff, Rachmaninoff and Stravinsky, and the most exciting composers of today including Adams, Birtwistle, Lindberg, MacMillan, Maxwell Davies, Reich and Turnage.

A new authoritative critical edition comprising 43 stage and symphonic works. A major publishing achievement, this edition, created in collaboration with the French musicologist Jean-Christophe Keck, will provide definitive performing editions for the first time.
Vocal Studies
Explore a wide range of albums for the conservatoire vocalist, from opera arias to recital material.

This collection includes volumes of opera arias for each voice, folksongs and individual concert items.

Richard Strauss was one of the greatest vocal composers of the 20th century, and his oeuvre is particularly rich in music for the soprano voice, from opera to lieder.

American Arias
The Boosey & Hawkes catalogue is unparalleled as one of the greatest treasures of contemporary American vocal literature. This major new series celebrates the best in American opera, with favourites and lesser-known gems from Stravinsky's Rakes Progress, John Adams' Nixon in China, Bernstein's Trouble in Tahiti and other great operas by Dominic Argento, Ned Rorem and Carlisle Floyd. Suitable for professional and college-level singers, ideal for recitals and auditions, and an essential resource for the study of the American opera repertoire.
Soprano / Mezzo / Tenor / Baritone & Bass
Orchestral Studies
Explore a wide range of albums for the conservatoire instrumentalist, from training guides to recital material.

More than just a collection of difficult passages for the aspiring orchestral professional, these extracts from the classical romantic & 20th-century concert repertoire reveal the tricks of the trade. Audition panels are often impressed by concerto performances, but not by performances of orchestral excerpts. And young players have not yet had the experience to know how to impress. The Orchestral Violinist series distils Rodney Friend's expertise by assembling extracts from each work as self-contained studies. Detailed fingerings have been applied, and workable bowings are reproduced in red solving all of the technical problems faced by the player.
Volume I / Volume II
Page Menu
Music for university & college
Explore our range of scores
Masterworks Library
Hawkes Pocket Scores
Offenbach Critical Edition
Vocal Studies
Britten Vocal Works
Strauss Vocal Works
American Arias
Orchestral Studies
The Orchestral Violinist

Boosey & Hawkes: the publishing story

Helen Wallace's new book reveals the inside story of a publisher as it works with composers to shape musical history. Paperback, 256 pp, 150 illustrations. Now available on sale.
Publication of the Month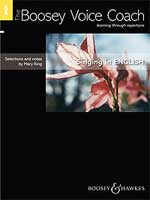 Boosey Voice Coach
Singing in English
Vocal score
Recently launched, The Boosey Voice Coach is an entirely new concept in vocal training. This is a wholly practical guide to singing, with repertoire selections by Mary King illustrating issues of technique and interpretation.