53rd Annual GRAMMY Winners Announced: Daugherty wins three
(February 2011)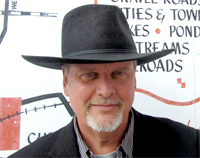 Boosey & Hawkes is pleased to highlight 2011 GRAMMY-winning and nominated composers and works at the 53rd Annual GRAMMY Awards:
Composer
Michael Daugherty
picked up three awards for his work
Deus Ex Machina
(2007), in the categories of
Best Contemporary Classical Composition
,
Best Orchestral Performance
, and
Best Classical Engineered Album
. Daugherty's first piano concerto, which showcases his unique compositional style rich in American culture and imagery, is a musical ode to the power and legacy of trains. Deus ex Machina was released by Naxos, and features the Nashville Symphony with conductor Giancarlo Guerrero and pianist Terrence Wilson. Listen to an audio excerpt of the first movement from Daugherty's work here. Engineers
Mark Donahue
,
John Hill
and
Dirk Sobotka
share the prize for Best Classical Engineered Album, awarded for their work on the Naxos album that also includes Metropolis Symphony.
The
Mingus Big Band
, celebrating the songbook of the late jazz great Charles Mingus, pulled off an upset, winning a Grammy in the
Best Large Jazz Ensemble Album
category for "Mingus Big Band Live at Jazz Standard" released by Jazz Workshop, Inc./Jazz Standard.
Additionally, Boosey & Hawkes would like to congratulate
David Frost
, who won a Grammy in the
Classical Producer of the Year
category. Frost produced seven albums in 2010, including
Britten's Orchestra
(Michael Stern and the Kansas City Symphony), Steven Mackey's
Dreamhouse
(Gil Rose, Rinde Eckert, Catch Electric Guitar Quartet, Synergy Vocals and Boston Modern Orchestra Project). Listen to an audio excerpt of Mackey's
Dreamhouse
here
.
WINNERS

Best Engineered Album, ClassicalProducer of the Year, Classical


David Frost

Britten's Orchestra (Michael Stern & Kansas City Symphony)
Mackey : Dreamhouse (Listen) (Gil Rose, Rinde Eckert, Catch Electric Guitar Quartet, Synergy Vocals & Boston Modern Orchestra Project)
Best Orchestra PerformanceBest Classical Contemporary CompositionNOMINEES

Best Engineered Album, Classical
Mackey: Dreamhouse (Listen)
David Frost, Tom Lazarus, Steven Mackey & Dirk Sobotka, engineers (Gil Rose, Rinde Eckert, Catch Electric Guitar Quartet, Synergy Vocals & Boston Modern Orchestra Project)
[BMOP/sound]
Producer of the Year, Classical
Tim Handley
James Mallinson
Best Classical Album
Daugherty : Deus Ex Machina (Listen)
Giancarlo Guerrero, conductor; Blanton Alspaugh, producer; Mark Donahue, John
Hill & Dirk Sobotka, engineers/mixers (Terrence Wilson; Nashville Symphony Orchestra)
[Naxos]
Mackey : Dreamhouse (Listen)
Gil Rose, conductor; Rinde Eckert; Catch Electric Guitar Quartet; David Frost,
producer; David Frost, Tom Lazarus, Steven Mackey & Dirk Sobotka, engineers/mixers; Silas Brown, mastering engineer (Boston Modern Orchestra Project; Synergy Vocals)
[BMOP/sound]
Best Orchestra Performance
Mackey : Dreamhouse (Listen)
Gil Rose, conductor; Rinde Eckert (Catch Electric Guitar Quartet; Boston Modern
Orchestra Project; Synergy Vocals)
[BMOP/sound]
Stravinsky: Pulcinella; Pierre Boulez, conductor (Roxana Constantinescu, Kyle Ketelsen & Nicholas Phan;
Chicago Symphony Orchestra)
[CSO Resound]
Best Classical Contemporary Composition
> Further information on Work: Deus Ex Machina
> News Search
Email Newsletters
Sign up for news updates and offers via email
SIGN UP
ONLINE SCORES