Andriessen & Birtwistle: premieres in Milan and Turin
(August 2011)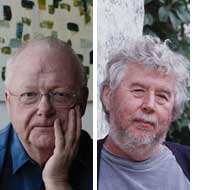 New works by Louis Andriessen and Harrison Birtwistle – La Girò and In Broken Images – are premiered at the MITO Settembre Musica Festival in Milan and Turin to celebrate the 150th anniversary of the unification of Italy.
2011 is the 150th anniversary of the joining of the different peninsula states into modern Italy in 1871, and the Risorgimento movement is celebrated at this year's MITO Settembre Musica festival. Leading composers have been commissioned to create new works, including compositions by Louis Andriessen and Harrison Birtwistle, being premiered in concerts by the London Sinfonietta under David Atherton in Milan (5 September) and Turin (6 September).

Louis Andriessen's La Girò for violin and large ensemble features Monica Germino as soloist, and has a distinctly Italian theme as the composer explains: "When Enzo Restagno asked me to write a piece for this year's MITO Festival, I was honoured because in the early sixties I lived in Italy for a year, and ever since then I have felt a strong bond with that country. In La Girò I am musing about a composer I admire a lot: maestro Antonio Vivaldi. The title refers to Anna Girò, Vivaldi's favourite singer who, together with her sister, lived in his house for some time.

"The piece would not have become the 'performance' it is without its dedicatee, the violinist Monica Germino. The soloist (La Girò, perhaps?) does not only play the violin. She also sings an Italian song, whispers and talks, tells stories and dreams. The ensemble consists of a small chamber orchestra, with an added piano, harp, cimbalom and some percussion. The piece has four parts: the first three form a kind of concertino while the actual musical drama takes place in the fourth, slow part."

Harrison Birtwistle's In Broken Images took as its starting point the music of Giovanni Gabrieli with its interplay between groups of instruments, but rather than emulating the Venetian composer's use of echo effects and ritornelli, Birtwistle's work tracks an independent path in which the music is in a permanent state of exposition. The wind, brass and strings are fiercely independent demonstrating distinct identities, while the percussion underpins each musical family providing the continuum.

The title In Broken Images is taken from poetry by Robert Graves, quoted at the front of the score, which presents two creative states confronting each other:

He is quick, thinking in clear images;
I am slow, thinking in broken images.
... He in his new confusion of his understanding;
I in a new understanding of my confusion.

The fragmented multiplicity of events in Birtwistle's work is only fully clarified for a single bar, near the end, when the groups play the same music. Otherwise there is a calculated non-synchronisation of the blocks of material using a hocket technique. After completing the score the composer recognised that the moment of unity offered an analogy to the Risorgimento: "It wasn't a conscious thing when I was composing to mirror the political situation but there is a similar moment of coming together. Just as in Italy, though, the different identities continue with each retaining its own distinct 'cuisine'."

Andriessen's La Girò receives its US premiere in the Los Angeles Philharmonic's Green Umbrella series on 28 February at Walt Disney Concert Hall with members of the LA Philharmonic conducted by Reinbert de Leeuw. Birtwistle's In Broken Images is co-commissioned by the London Sinfonietta who will present the UK premiere in the coming season.

> Further information on Work: La Giro
> Further information on Work: In Broken Images
> MITO Settembre Musica website

> Further information on Work: La Girò
Photos: Francesca Patella and Hanya Chlala/ArenaPAL
> News Search
Mailing List
Sign up for news updates and offers via email
SIGN UP
ONLINE SCORES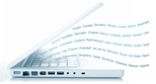 Explore our new library of over 800 online scores
VIEW SCORES
WAR & PEACE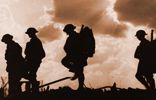 As we approach the centenary of the First World War (1914-18), explore music suitable for commemorative features.
EXPLORE WAR & PEACE