Andriessen: reviews of monodrama Anaïs Nin on tour
(February 2011)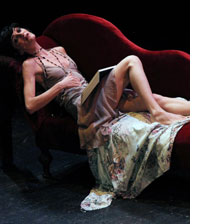 Louis Andriessen's new monodrama Anaïs Nin has attracted excellent reviews for performances in Italy, the Netherlands and Germany, and travels to the UK in April.
Louis Andriessen, recent recipient of the prestigious Grawemeyer Award for his opera La Commedia, is travelling with his new monodrama Anaïs Nin which has been garnering excellent reviews. Premiered in Siena last July, the work was toured by Cristina Zavalloni and the Nieuw Amsterdams Peil around the Netherlands in November, to Bad Kissingen for its German premiere in January, and future dates include Groningen and The Hague. Co-commisioners the London Sinfonietta present the UK premiere on 14 April at the Queen Elizabeth Hall, coupled with De Staat conducted by David Atherton.

Andriessen's 30-minute monodrama for singer/actress, film and ensemble explores the writings of Anaïs Nin who frankly recreated the memories of her sexual liaisons in 1930s Paris. Texts are drawn from her journal Incest which focuses especially on her emotionally charged relationship with her father, the composer Joaquin Nin, who stated "I've met the woman of my life, and it's my daughter".

"Nin described the differences between the men in her life with ruthless precision and Andriessen has captured those traits in music. In the writer Henry Miller she recognises her loneliness and eternal hunger, in the gorgeous Antonin Artaud her hallucinations, and in René Allendy, the intellectual among her lovers, a cruel severity… Fascinated by the dividing line between the real and the acted, Andriessen projects a stylised Anaïs Nin onto a screen; the real woman, torn between loneliness and lust, crawls, sings and yearns on the stage…"
de Volksrant

"A short but masterful monodrama... The composer expresses Nin's intense yearning for love and the joy on its fulfilment in words and music which ranks among the best that Andriessen has written… The title role is perfectly created for the Italian soprano Cristina Zavalloni, who is Andriessen's dream vocalist because she sounds so different to 'opera': raw and brittle, but sensuous when called for."
NRC Handelsblad

"Louis Andriessen has always turned his back on grand Romantic emotion, but he has never yielded to total abstraction. He invented a new form of music theatre, with which he manages to imbue his characters with a clean yet penetrating emotionalism. Andriessen is not merely capable of penning beautifully simple melodies that are deeply affecting; the same applies for his harmonies, in which a single new bass note or one perfectly placed chord alteration can illuminate the sore point… Zavalloni can sing, but also act. The interaction between her strong stage personality and the film fragments in which her lovers have their say works perfectly."
Het Parool
> Further information on Work: Anaïs Nin
Photo: Pietro Cinotti
> News Search
Mailing List
Sign up for news updates and offers via email
SIGN UP
ONLINE SCORES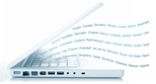 Explore our new library of over 800 online scores
VIEW SCORES
WAR & PEACE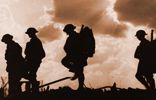 As we approach the centenary of the First World War (1914-18), explore music suitable for commemorative features.
EXPLORE WAR & PEACE