Christian Tetzlaff to Perform the World Premiere of Harrison Birtwistle's Violin Concerto
(February 2011)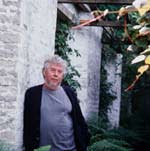 Boston Symphony Orchestra Performs Birtwistle's Violin Concerto in Boston and New York

UPDATE, March 3: Boston Symphony Orchestra Assistant Conductor Marcello Lehninger will conduct these performances in Boston and New York, replacing James Levine.
Violinist Christian Tetzlaff will play the World Premiere of
Harrison Birtwistle
's
Violin Concerto
with the
Boston Symphony Orchestra
under
Music Director James Levine
on
Thursday, March 3
at 8:00 p.m. Following repeat performances on
March 4, 5 and 8
at
Symphony Hall
, the group will travel to New York, where they will repeat the program at
Carnegie Hall
on
March 15
at 8:00 p.m. The ambitious program will be rounded out with Tetzlaff's performances of both Mozart's Rondo for Violin and Orchestra K.272 and Bartók's Violin Concerto No. 2.
The new work is Birtwistle's first concerto for a stringed instrument. He famously banished conventional strings completely from the pit for his opera
The Mask of Orpheus
, but his relationship with the violin has an interesting history, as he explains:
"I'm a wind player, but I had some violin lessons at school so I have a memory of the physical feel of the instrument - in a sense. It's rather like remembering how to bowl a leg break in cricket, even if I couldn't do it now. In recent decades I've written quite a bit of music for strings, particularly for quartet in
Pulse Shadows
and The
Tree of Strings
, and the players have told me it is idiomatic. Perhaps composing for instruments without the highest level of expertise removes some barriers, because you don't become over-concerned about the technical difficulty of the solo part.
"I avoided the classical models with separate movements and a cadenza. My starting point instead was the idea of dialogue. The soloist is in conversation with the orchestra in a number of guises. It is not an argument like in some concertos - the interchange is never angry. However it is rhythmic and there is a lot of to and fro, and immediate changes of mood rather like when the topic changes and the conversation heads off in a different direction. The orchestra acts like a chorus - it can be a composite voice or individual utterances can come to the fore. Five instruments emerge for duets with the violin: flute, piccolo, cello, oboe and bassoon." (Read more from Birtwistle
here
)
Harrison Birtwistle is one of the leading European figures in contemporary music. His works combine modernist aesthetic with mythic power and emotional impact. Birtwistle takes inspiration from contemporary art and the rituals of classical mythology and pre-history. His recent works include
Panic
composed for the Last Night of the BBC Proms and
The Shadow of Night
commissioned by the Cleveland Orchestra. Noted Birtwistle conductors include Boulez, Howarth, Knussen, Rattle, Dohnányi and Barenboim. Birtwistle was the winner of the 1986 Grawemeyer Award and the 1995 Siemens Prize. CD recordings of Birtwistle's works have been made on Decca, Deutsche Grammophon, Teldec, Etcetera, NMC, Black Box and CPO.
> For a score sample of the Violin Concerto, click
here
:
> To purchase tickets for the Boston performances, click
here
:
> To purchase tickets for the Carnegie Hall performance, click
here
:
For press interviews with Harrison Birtwistle and photos, please contact:
Eric M. Gewirtz
, Director, Media and Public Relations
eric.gewirtz@boosey.com
(212) 358 5361
Hilary Jansen
, Publicity Assistant
hilary.jansen@boosey.com
(212) 358 5377
Photo Credit: Hanya Chlala, ArenaPAL
> News Search
Email Newsletters
Sign up for news updates and offers via email
SIGN UP
ONLINE SCORES