Del Tredici: 75th Birthday Celebrations in US with World and NY Premieres
(February 2012)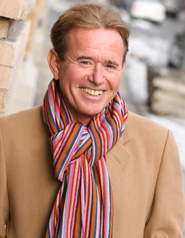 World premiere of new wind quintet, Belgian Bliss, along with celebratory birthday concerts in New York
American composer David Del Tredici celebrates his 75th birthday in March 2012 with several performances of his music that span his career, including the world premieres of three new chamber and instrumental works.

In recent years, the composer has devoted his energy towards chamber music, creating such works as Magyar Madness (2006) and String Quartet No. 2 (2011). His latest contribution is Belgian Bliss (2011), to be premiered by the Dorian Wind Quintet in Mount Vernon, Illinois as part of the Cedarhurst Chamber Music Series on February 19, 2012, and again at Bethel Woods in New York on April 20. Del Tredici calls the new quintet "a 20-minute fantasy on the Mendelssohn Wedding March," inspired by the marriage of a personal friend. Belgian Bliss was commissioned by and dedicated to the Dorian Wind Quintet. This commission has been made possible by the Chamber Music America Commissioning Program, with funding generously provided by the Andrew W. Mellon Foundation, the Aaron Copland Fund for Music, and the Chamber Music America Endowment Fund.

Continuing the birthday celebrations are two special events in New York. The first, March 15, at Symphony Space, features soprano Courtenay Budd with the composer on piano, as they present his song cycles Miz Inez Sez (1996-98) and Lament for the Death of a Bullfighter (1998/2001). The second event, April 12, at Le Poisson Rouge, offers the world premiere of a solo trombone piece Felix Variations (2011), the New York premiere of String Quartet No. 2 (2011) to be performed by the Orion String Quartet, and A Field Manual (2008) to be performed by the Fireworks Ensemble. In addition, Del Tredici will perform with Marc Peloquin on March 23 in a four-hand piano recital featuring a variety of works. Finally, Haddock's Eyes (1985) will be performed March 25 and 26 at Brooklyn's Galapagos Art Space by OPERAtion Brooklyn in partnership with Opera on Tap and American Opera Projects.

Additional 2012 highlights include a performance of Final Alice (1974-75), one of Del Tredici's monumental works themed after the Alice in Wonderland series, at the Detroit Symphony Orchestra, March 1 and 3, with long-time champion Leonard Slatkin. The composer's signature atonal piece for soprano and ensemble, Syzygy (1966), will be on display as part of the month-long American Mavericks Festival, presented by the San Francisco Symphony in March 2012 in San Francisco, Ann Arbor and New York. In the summer of 2012, his String Quartet No. 2 is performed again by the Orion String Quartet at the Santa Fe Chamber Music Festival, a co-commissioner of the work.

> For more information on Del Tredici, click here.
> To watch a documentary about Del Tredici's life and works, click here.

Photo Credit: Paula Court
> News Search
Mailing List
Sign up for news updates and offers via email
SIGN UP
ONLINE SCORES