Elliott Carter: Summer premieres of Conversations and Flute Concerto
(June 2011)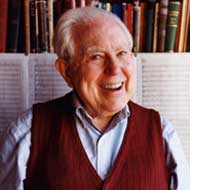 This summer brings the world premiere of Elliott Carter's Conversations for piano, percussion and orchestra at the Aldeburgh Festival and the UK premiere of his Flute Concerto at the BBC Proms.
Now into his 103rd year, Elliott Carter has completed a double concerto for premiere at the Aldeburgh Festival on 26 June. The new work, entitled Conversations, combines the talents of pianist Pierre-Laurent Aimard and percussionist Colin Currie, and the premiere at Snape Maltings features the Birmingham Contemporary Music Group and conductor Oliver Knussen. Other commissioners are Radio France and the New York Philharmonic with performances to follow in future seasons.

Lasting ten minutes, Conversations is more compact in scale and intent than Carter's pioneering Double Concerto (1961) and takes an alternative view of the relationship between soloists and orchestra. Whereas the earlier work emphasized the differences between piano and harpsichord, each with its own supporting orchestra, the composer has described how Conversations treats the piano as part of a percussion group combining both solo instruments. Pianist and percussionist are in amiable conversation and exchange lively repartee with the lightly-scored orchestra, in stark contrast to the dialectic conflict and density of the Double Concerto.

This summer also brings the UK premiere of Carter's Flute Concerto written for Emanuel Pahud. Following its premiere in Jerusalem in 2008 and performances in Berlin, Boston, Toronto and Hyogo, the BBC Proms performance on 28 July features Pahud with the BBC National Orchestra of Wales conducted by Thierry Fischer. The Berlin Morgenpost described how the solo part and the orchestra interact "sometimes quarrelling, sometimes affectionately pulling together."

"The witty variations in instrumentation, in particular the sonic combination of percussion, harp and piano, and the echo-stretti between the soloist and the orchestral flute, paved the way for concertante conversations at the highest level. A wonderfully colourful flute concerto." Berliner Zeitung

Elliott Carter's Concertino for Bass Clarinet and Chamber Orchestra (2009) will receive its U.S. Premiere on June 18 with soloist Virgil Blackwell and the Orchestra of the League of Composers at the Miller Theater at Columbia University. One of the centenarian composer's most recent works, the Concertino received its world premiere this past December in Toronto in an all-Carter concert celebrating the composer's102nd birthday. The world premiere performance also featured Blackwell as soloist. In his review of the concert, Robert Everett-Green of Toronto's Globe and Mail said "the Concertino...conjured a magical passage of deeply resonant sound that was much more than the sum of its parts."

The first European performance of the Concertino is in Ljubljana, also with Blackwell as soloist, on 18 November within a major Carter feature at the Slowind Festival also featuring Slovenian premieres of Triple Duo, Mosaic and Tempo e Tempi with soloists including Robert Aitken, Ursula Oppens and Erica Goodman.

> Further information on Work: Conversations
Photo: Meredith Heuer
> News Search
Mailing List
Sign up for news updates and offers via email
SIGN UP
ONLINE SCORES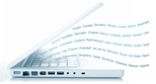 Explore our library of over 1000 online scores
VIEW SCORES