Elliott Carter: UK premiere of Interventions at Aldeburgh Festival
(June 2012)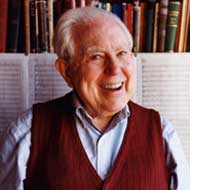 Elliott Carter's Interventions receives its UK premiere at the Aldeburgh Festival on 17 June, with pianist Pierre-Laurent Aimard, the CBSO and conductor Oliver Knussen.
Veteran American composer Elliott Carter, now aged 103, wrote Interventions to fulfil a commission for his 100th birthday in 2008, combining the talents of pianist Daniel Barenboim and conductor James Levine. The work's UK premiere is hosted by the Aldeburgh Festival on 17 June, with Carter specialists Pierre-Laurent Aimard as pianist and Oliver Knussen on the rostrum, with the City of Birmingham Symphony Orchestra.

The Aldeburgh Festival has built a strong tradition of performing and commissioning Carter's music over the past 30 years. Recent highlights have included the world premiere of the Ezra Pound song-cycle On Conversing with Paradise conducted by Knussen and Three Occasions for Orchestra conducted by George Benjamin (2009), the first performance of the song-cycle What Are Years conducted by Pierre Boulez (2010), and the premiere of the mini-double concerto Conversations with Aimard and Colin Currie (2011).

Elliott Carter's writes of composing Interventions so as to give equal emphasis to pianist and conductor: "I soon realized that it could not be a regular piano concerto because it would not give equal prevalence to both performers. So I decided to write a work that had one long line, mostly for the strings, interrupted by the piano which also had its developing part interrupted by the orchestra. Each intervening in the other's part, sometimes humorously."

"…full of surprisingly lyrical string writing…with frequent interruptions from the piano, which then holds court with pointy, eruptive figuration or big, iridescent chords. Two independent trios help negotiate between orchestra and soloist. The final flourish is uncharacteristically brash - and life-affirming."
— The Boston Globe

"…a feisty score. …In Interventions, whimsy meets wistfulness. The violins have it in mind to sing a long, lovely wide-ranging line for the whole of the score's 17 minutes. They don't get to, however, no matter how much support they get from the lower strings, which add harmonic and contrapuntal richness."
— Los Angeles Times

Carter's Conversations has recently been expanded with two additional movements to form Two Controversies and a Conversation. The full 11-minute work receives its first performance on 8 June at the Metropolitan Museum of Art in New York with percussionist Colin Currie, pianist Eric Huebner, and the New York Philharmonic Orchestra conducted by David Robertson.

> View the score of Interventions at our Online Scores area
> Further information on Work: Interventions
Photo: Meredith Heuer
> News Search
Mailing List
Sign up for news updates and offers via email
SIGN UP
ONLINE SCORES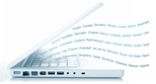 Explore our new library of over 800 online scores
VIEW SCORES
WAR & PEACE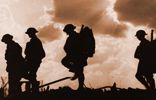 As we approach the centenary of the First World War (1914-18), explore music suitable for commemorative features.
EXPLORE WAR & PEACE