Harrison Birtwistle's The Corridor receives U.S. Premiere in New York City
(May 2010)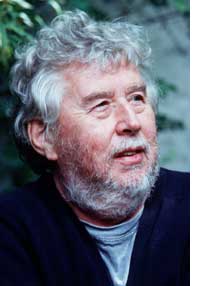 Sir Harrison Birtwistle's The Corridor Receives U.S. Premiere in New York City
Sir Harrison Birtwistle
's 2009 music theatre work,
The Corridor
,
receives its U.S. premiere at Merkin Hall in New York City with conductor Brad Lubman and SIGNAL on May 27 at 7:30 PM.
A collaboration with poet David Harsent, with whom Birtwistle partnered on the operas
Gawain
and
The Minotaur
,
The Corridor
revisits one of the composer's mythical fixations–the moment when Orpheus turns to look back at Eurydice and she is lost. Harsent describes the scene: "
The Corridor
opens with this moment. Eurydice stands on the fault-line between life and death; and though the space she occupies is featureless–corridor, hallway, pathway–it will, nonetheless, return her to the Underworld. Love drew her out of Hades; now love sends her back."
A 40-minute scena,
The Corridor
is scored for two voices, soprano and tenor, and an ensemble of flute, clarinet, violin, viola, cello, and a harp functioning as an Orphic lyre. As part of a 75th birthday focus on Birtwistle's music,
The Corridor
launched the new Britten Studio in its world premiere at the Aldeburgh Festival in June 2009, and has been performed subsequently at Southbank Centre in London as well as the Bregenz Festival in Austria. A Dutch premiere is scheduled for the Holland Festival in June 2010.
Press for The Corridor
"
The Corridor
is for soprano, tenor and six instruments, and deals with a single moment, when Orpheus, leading Eurydice out of the underworld, turns around to look at her, and so loses her forever. Birtwistle and Harsent explode the moment of that glance into a series of arias that crystallise the characters' situations and the separateness of their emotional worlds - his, accompanied by just a harp, are self-absorbed and self-pitying, while hers are more objective, matter-of fact, and often delivered as speech over the other instruments."
The Guardian
"...a movingly lyrical lament for loss of love."
Sunday Times
"The twist which Harrison Birtwistle gives to the old myth is astonishing. In
The Corridor
the noble saviour appears as a high-handed artist who wants to have his wife back, like a stolen possession, and who, until now, has evidently given no thought to her dreams and yearnings. And as in all tragic operas – and in real life – the realisation in
The Corridor
comes too late. As soon as Orpheus really looks at his wife for the first time and utters her name, he can't help but recognise that he lost her long ago... Whilst the woman slowly disappears, the artist Orpheus takes refuge in beautiful, sorrowful music."
Der Tagesspiegel
> News Search
Email Newsletters
Sign up for news updates and offers via email
SIGN UP
ONLINE SCORES