Igor Stravinsky: new Petrushka website launched in centenary year
(September 2011)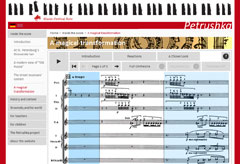 2011 is the centenary of the premiere of Stravinsky's Petrushka and a new website explores the pioneering ballet and collects resources from a unique educational project in the city of Bochum.
In 2007 the Ruhr Piano Festival and Iniativkreis Ruhr mounted a colourful event in the city's Jahrhunderthalle, creating a modern equivalent of the St Petersburg Shrovetide fair in Igor Stravinsky's classic score Petrushka. This combined children, young people and adults from the region, with the Bochum Symphony Orchestra and conductor Steven Sloane performing to an audience of 1500, many of whom had never experienced classical music before.

In the run-up to the performance, 130 school children participated in numerous workshops where they engaged with Stravinsky's masterpiece through music, dance and art. At the fair itself, visitors discovered street musicians, jugglers, acrobats, puppeteers and magicians. Crucial to the project was cultural interchange, realised through different theatrical traditions from Turkish shadow-theatre to Venetian carnival masks, and food stalls from many nations. Giant puppets created in the art workshops roamed the fair and the Petrushka choreography workshopped in schools was performed with live orchestra.

The new website, in English and German, includes an interactive score of sections of Petrushka, and extensive background information on the complete work in the form of texts, images, video and audio. The detailed teachers' notes and classroom materials by Richard McNicol provide an invaluable resource for future education projects.

Visit www.petruschka-klavierfestival.de
> Further information on Work: Petrushka
> News Search
Mailing List
Sign up for news updates and offers via email
SIGN UP
ONLINE SCORES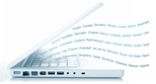 Explore our new library of over 800 online scores
VIEW SCORES
WAR & PEACE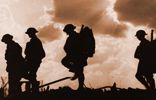 As we approach the centenary of the First World War (1914-18), explore music suitable for commemorative features.
EXPLORE WAR & PEACE