James MacMillan: premiere recording of The Sacrifice
(February 2010)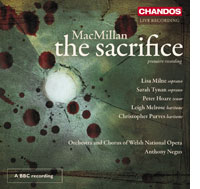 James MacMillan: premiere recording of The Sacrifice
James MacMillan's award-winning opera The Sacrifice has recently been released in a live recording by Chandos, featuring the original cast including Lisa Milne and Christopher Purves, with Welsh National Opera conducted by Anthony Negus (Chandos 10572, 2CDs).

Buy the CD of The Sacrifice from our online shop

Based on a story from the Mabinogion, this collaboration with poet Michael Symmons Roberts is a powerful drama describing the search for peace in a modern world torn apart by sectarian violence. The original production by Katie Mitchell was premiered by Welsh National Opera in 2007, toured Wales and England and went on to win the 2008 Royal Philharmonic Society Opera and Music Theatre Award.

"Judged by its music, MacMillan's opera of love and war offers many thrills: soaring lyric arias, choral laments, percussive clamour, folksy musings, all couched in a vivid, friendly musical language (like a marriage between Britten and Berg)."
The Times

MacMillan's 15-minute orchestral suite from the opera, Three Interludes from The Sacrifice, has also been released by Chandos (CHSA5072), coupled with Quickening. The work received its Irish and US premieres last year, in Dublin and at the Cabrillo Music Festival conducted by Marin Alsop, and the German premiere in Stuttgart is scheduled for 20 June.

Buy the CD of Three Interludes from The Sacrifice from our Online Shop

Also planned for release in coming months is a new BIS recording with MacMillan's Easter liturgical drama Visitatio Sepulchri for choir and chamber orchestra coupled with Sun-Dogs, a choral setting of texts by Symmons Roberts.
> Further information on Work: The Sacrifice
> News Search
Mailing List
Sign up for news updates and offers via email
SIGN UP
ONLINE SCORES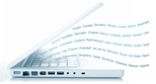 Explore our library of over 1000 online scores
VIEW SCORES