John Adams: Reviews of Nixon in China at the Met
(February 2011)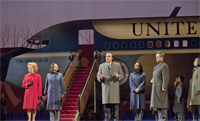 The Metropolitan Opera premiere of John Adams's opera Nixon in China received rave reviews from the American press. The production, which opened on February 2, was conducted by the composer.
"Air Force One finally landed on the stage of the Met — and so did perhaps the greatest American opera of the last quarter-century."
–Associated Press

"The scene in which the presidential plane descends for the arrival of Nixon and his entourage remains musically exhilarating and theatrically dazzling. The orchestra erupts with big band bursts, rockish riffs and shards of fanfares: a heavy din of momentous pomp….As a conductor Mr. Adams brought an obvious command of the metric complexities of the score to his performance. I like that he never pushed the music and tried to tease out its mysticism and hazy harmonic richness."
–The New York Times

"Not since "Porgy and Bess" has an American opera won such universal acclaim as "Nixon in China," a piece made of equally impressive contributions by the composer, John Adams, the librettist, Alice Goodman, and the director, Peter Sellars."
– The New Yorker

"…A transformative score that demonstrated the full range of what Minimalism could accomplish…In his first stage work, Adams showed that the pared-down toolbox of standard harmonies, chugging rhythms, unembellished scales, and patient repetitions could yield an old-fashioned bone-and-gristle drama."
–New York Magazine

"When John Adams's opera "Nixon in China" had its world premiere in 1987, it was provocative, edgy, audacious. Twenty-four years later, it's come to the Metropolitan Opera and, along the way, become a Modern Masterpiece."
–The Washington Post

"Adams's score, which he led incisively on Wednesday in his house conducting debut, is a juggernaut of chugging minimalism…[and] also ingeniously tailored to its own settings and dramatic personae, chief among them Nixon himself, whose character inspired Adams to insert a saxophone-rich swing band sound right into the heart of the minimalist machine."
–Boston Globe

"Some of Adams' strongest music… This is operatic composition of a very high order."
–MusicalAmerica.com

"Having finally arrived at the Met, "Nixon in China" has traveled the world. It is a masterpiece, a staple of the opera repertory…"
– Variety

> Further information on Work: Nixon in China
Photo Credit: Alistair Muir, English National Opera
> News Search
Mailing List
Sign up for news updates and offers via email
SIGN UP
ONLINE SCORES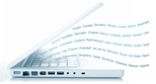 Explore our new library of over 800 online scores
VIEW SCORES
WAR & PEACE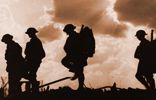 As we approach the centenary of the First World War (1914-18), explore music suitable for commemorative features.
EXPLORE WAR & PEACE