John Adams's Music Stars with Tilda Swinton in I Am Love
(April 2010)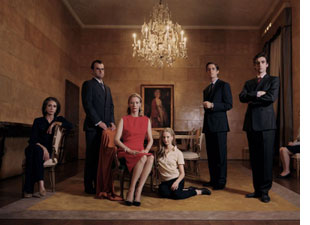 John Adams's Music Stars with Tilda Swinton in I Am Love
Several works of
John Adams
surge with new life as the score to the Italian film I Am Love ("Io sono l'amore").
Itself a 10-year labor of love from director Luca Guadagnino and actress Tilda Swinton, the film was directed and produced with Adams's music in mind, and opened in the UK on April 9, garnering praise for its "sublime score," "decadent" imagery, and "rampaging melodrama."
Reporting from an advance screening,
The New York Times
critic Stephen Holden cited its "elegant lead performance by Tilda Swinton" and "throbbing musical score by John Adams," calling the film "a cinematic tour de force."
Time Out New York
gives the film five stars and exhorts: "See it by any means necessary."
Over the coming months, John Adams and Tilda Swinton will be hosting screenings in major cities around the U.S., and will be in New York City for a red carpet premiere gala on June 16, announcing the June 18 opening of the film across the USA.
Confirmed red carpet screenings include:Sunday, May 2; 3:30 PM
Castro Theatre San Francisco, CA
San Francisco International Film Festival
Hosted by John Adams, followed by a Q&A

Tickets
Tuesday, May 18, 7:30 PM
Goethe-Institut Washington, DC
Hosted by John Adams

Tickets
About the score
The film score features more than 30 minutes of music from Adams: the "Desert Chorus" from the opera
The Death of Klinghoffer
;
Fearful Symmetries
; the third movement from
Shaker Loops
, "Loops and Verses";
Lollapalooza
; Part III from
Harmonielehre
, "Meister Eckhardt and Quackie"; movement one from
Century Rolls
; and the aria "Some men you cannot satisfy" from Act III of
Nixon in China
.
Click here for a complete
cue sheet
of all Adams works featured in the film.
About the film
Guadagnino's film tells the story of the wealthy Recchi family, whose lives are undergoing sweeping changes. Eduardo Sr., the family patriarch, has decided to name a successor to the reigns of his massive industrial company, surprising everyone by splitting power between his son Tancredi, and grandson Edo. But Edo dreams of opening a restaurant with his friend Antonio, a handsome and talented chef.
At the heart of the family is Tancredi's wife Emma (Swinton), a Russian immigrant who has adopted the culture of Milan. An adoring and attentive mother, her existence is shocked to the core when she falls quickly and deeply in love with Edo's friend and partner Antonio, and embarks on a passionate love affair that will change her family forever.
More details, including a full US screening schedule and trailer, here:
http://www.iamlovemovie.com/
Photo credit: I Am Love Movie
> News Search
Mailing List
Sign up for news updates and offers via email
SIGN UP
ONLINE SCORES