MacMillan World Premiere at 2012 Cabrillo Festival
(June 2012)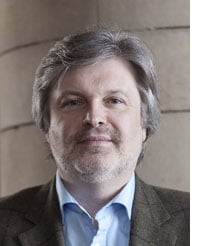 World premiere of MacMillan's Woman of the Apocalypse; west coast premiere of Golijov's Rose of the Winds
Since its start 50 years ago, the Cabrillo Festival of Contemporary Music has been an annual destination for new music, presenting world, US and regional premieres. In these 50 summers, the Festival has presented the music of more than 25 Boosey & Hawkes composers, ranging from Aaron Copland and Sergei Rachmaninoff to Anna Clyne and Enrico Chapela. To commemorate this celebratory summer, the Festival presents the world premiere of a new orchestral piece by James MacMillan and the west coast premiere of a work for orchestra and ensemble by Osvaldo Golijov.

Receiving its world premiere at the Festival on August 4, 2012 is Woman of the Apocalypse by Scottish composer James MacMillan. His new score, a concerto for orchestra, is commissioned by the Festival and is dedicated to the Festival's music director, Marin Alsop. Woman of the Apocalypse is inspired by a range of visual artworks from the Book of Revelation, including those by Dürer, Rubens, Doré, Blake, and Marvenko, among others. Alsop has long been a champion of MacMillan's music, and has showcased ten of his works at the Festival over the years.

Rose of the Winds, by Osvaldo Golijov, is a work that features an ensemble consisting of Galician bagpipes, kemancheh, Klezmer clarinet and hyper-accordian , juxtaposed with the orchestra. Premiered in 2007 by the Chicago Symphony Orchestra, the piece demonstrates Golijov's eclectic and unique ability to present a hybrid of musical cultures in any given work. Following the premiere, the Chicago Tribune said Rose of the Winds featured a "bold yet seamless melding of musical resonances from Christian, Arabic and Jewish traditions and ear-catching instrumental sounds and colors representing numerous points of the compass." The west coast premiere takes place August 11, 2012.

> For further information on James MacMillan, click here.
> To view the score of MacMillan's Woman of the Apocalypse, click here.
> For further information on Osvaldo Golijov, click here.
> To view the score of Golijov's Rose of the Winds, click here.
> For information about the Cabrillo Festival of Contemporary Music, click here.

Photo credit: Philip Gatward
> News Search
Mailing List
Sign up for news updates and offers via email
SIGN UP
ONLINE SCORES