MacMillan choral update: Strathclyde Motets and Newman Mass
(July 2011)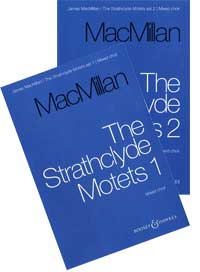 New from James MacMillan are two collections of Strathclyde Motets, his congregational Mass written for the Pope's recent pilgrimage to the UK and setting the new English translation, and premiere recordings on Hyperion and Regent.
James MacMillan's Strathclyde Motets have proved popular with church and cathedral choirs as well as amateur secular choirs in concert. They have already attracted recordings by leading groups including Cappella Nova on Linn (CKD 383) and a selection was included on tour by The Sixteen and recorded on Coro (COR16069).

Originally published individually since the launch of the series in 2005, the 14 Strathclyde Motets to date have now been collected into two volumes each containing seven motets. A number of these short works are simpler in style than much of MacMillan's choral output so offer a good introduction into the composer's musical world. Many are suitable for use during Communion and are spread throughout the liturgical calendar, including Christmas and Holy Week.

MacMillan's Mass of Blessed John Henry Newman, commissioned for Pope Benedict's visit to the UK last September, has just been published by Boosey & Hawkes. This Mass is the first ever setting of the new English translation of the Roman Missal, authorised by the Vatican in 2010 for implementation by English-speaking Catholic congregations worldwide. Scored for cantor, congregation and organ, with optional SATB chorus, brass and timpani, the Mass is on sale either as a choral score or as an ottavo for cantor and congregation.

The Mass of Blessed John Henry Newman was first heard within the Mass celebrated by Pope Benedict at Bellahouston Park on 16 September 2010 in MacMillan's home city of Glasgow, followed by a further Mass celebrating the beatification of Cardinal Henry Newman at Cofton Park in Birmingham on 19 September. The new setting is MacMillan's third congregational Mass, following the St Anne's Mass (1985) and Galloway Mass (1996).

Other new MacMillan choral publications include Missa Dunelmi, first performed at Durham Cathedral in February 2011 with the Cathedral Choir conducted by James Lancelot. Shorter choral publications include After Virtue for double choir a cappella, Domine non secundum peccata nostra written for the Choir of St John's College Cambridge and the baptismal song for mixed choir Think of how God loves you. Releases over coming months include his major 20-minute choral work setting texts by Michael Symmons Roberts, Sun-Dogs, first performed by Indiana University Contemporary Vocal Ensemble in 2006 and recently recorded by the Netherlands Radio Choir (BIS SACD 1719).

Two recent CD releases survey MacMillan's recent choral output including many first recordings. On Hyperion (CDA 67867) Wells Cathedral Choir conducted by Matthew Owens opens the disc with the premiere recording of MacMillan's 2009 setting of the Jubilate Deo, and features his earlier Magnificat and Nunc Dimittis recorded here for the first time in the choir and organ version (the choir and orchestra version can be heard on Chandos 9997). Other additions to the recording catalogue include Serenity and On Love while the disc is completed with the first recording of MacMillan's major work for organ solo, Le tombeau de Georges Rouault, played by Jonathan Vaughan.

The new CD by Birmingham Conservatoire Chamber Choir directed by Paul Spicer couples MacMillan with music by Kenneth Leighton (Regent REGCD348). First recordings include Laudi alla Vergine Maria, The Song of the Lamb and Invocation, with the disc's finale comprising MacMillan's dramatic early choral work Cantos Sagrados, mixing Latin American politics with Liberation Theology.

> Strathclyde Motets Set 1
> Strathclyde Motets Set 2
> Mass of Blessed John Henry Newman (Choral score)
> Mass of Blessed John Henry Newman (Cantor & Congregation)
> Missa Dunelmi
> After Virtue
> Domine non secundum peccata nostra
> Think of how God loves you

> Buy the new Hyperion disc of MacMillan choral and organ music

> Listen to audio clips of MacMillan's choral music
> Further information on Work: Mass of Blessed John Henry Newman
> News Search
Mailing List
Sign up for news updates and offers via email
SIGN UP
ONLINE SCORES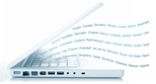 Explore our new library of over 800 online scores
VIEW SCORES
WAR & PEACE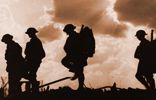 As we approach the centenary of the First World War (1914-18), explore music suitable for commemorative features.
EXPLORE WAR & PEACE