Magnus Lindberg: reviews of Souvenir and Al largo
(February 2011)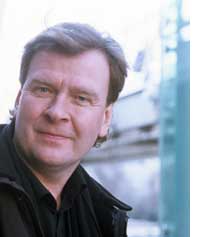 Recent Lindberg works premiered by the New York Philharmonic include Al largo for orchestra and Souvenir for ensemble, both attracting excellent reviews.


Magnus Lindberg's new ensemble work, Souvenir, the latest commission linked with his residency with the New York Philharmonic, was premiered in November in the orchestra's Contact! series under the baton of Alan Gilbert. The work marks the composer's return to Sinfonietta-size forces with 18 instrumentalists after a sequence of large-scale scores with orchestra.

Souvenir was written as a tribute to Lindberg's teacher, the French composer Gérard Grisey, whose spectral music proved so influential on Lindberg's harmony. The 25-minute work is cast in three movements as described by the composer: "the first is like a whirlpool, fast and tight with events colliding together; the second has a slower tread in terms of momentum but still with a bubbling surface; the third is a fast, direct, toccata-like conclusion."

"He certainly knows how to conjure up wondrous sounds. Souvenir began with a series of emphatic processional chords, almost like a funeral procession, though too assertive for that. Each chord unleashed reactive bursts of quiet, scurrying figures and riffs that eventually coalesced into action. During the reflective second movement and the bustling, densely layered yet always lucidly textured last movement, Lindberg's distinctive harmonic language came through, neither tonal nor atonal, but shimmering, diaphanous and pungent."
New York Times

Lindberg's most recent orchestral work Al Largo, also premiered by the New York Philharmonic, has received first European performances presented by co-commissioners the Casa da Música in Porto and the London Philharmonic Orchestra with Osmo Vänskä, and a performance by the Tampere Philhamonic Orchestra conducted by Hannu Lintu. The score examines how speed is perceived, as noted by the reviewer in The Times: "The unusual title expresses the powerful and enigmatic slow undertow to what the composer admits is some of the fastest music he has ever written."

"Al largo also refers to being offshore, gazing into the far horizon. And, as the music's own horizons open out, there's a sense of that in the resonances of pitched and unpitched percussion, in the broad soaring theme that rises out of the coppery light of a shaken tambourine — and in a sustained, dissonant intensity throughout the orchestra that leads to an oboe solo of strange beauty. These episodes are just part of a restless yet thrillingly assured score... I long to hear it again."
The Times

> Further information on Work: Souvenir
Photo: Hanya Chlala/ArenaPAL
> News Search
Mailing List
Sign up for news updates and offers via email
SIGN UP
ONLINE SCORES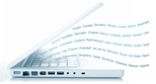 Explore our new library of over 800 online scores
VIEW SCORES
WAR & PEACE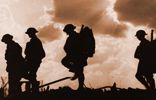 As we approach the centenary of the First World War (1914-18), explore music suitable for commemorative features.
EXPLORE WAR & PEACE