Michael Daugherty's Trail of Tears Flute Concerto Premieres
(February 2010)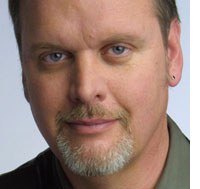 Michael Daugherty's Trail of Tears Flute Concerto Premieres
Michael Daugherty
's
Trail of Tears
for flute and chamber orchestra receives its world premiere with flutist Amy Porter and the Omaha Symphony under the direction of Thomas Wilkins at the Holland Performance Arts Center in Omaha, Nebraska on March 26.
Commissioned by the American Composers Orchestra, Ann Arbor Symphony Orchestra, Delaware Symphony Orchestra, and Omaha Symphony,
Trail of Tears
is divided into three movements totaling 22 minutes: I.
where the wind blew free
, II.
incantation
, and III.
sun dance
.
Says Michael Daugherty: "One of the tragedies of human history is the forced removal of peoples from their homeland for political, economic, racial, religious, or cultural reasons. My flute concerto is a musical journey into how the human spirit discovers ways to deal with upheaval, adversity and adapting to a new environment."
MORE...
View
a score sample.
Recently described by the
Los Angeles Times
as "A composer of his time and birthright... the musical embodiment of Americana" and an "exuberant master of his craft,"Daugherty creates engaging, intelligent, idiomatic repertoire rich with political and cultural allusions. As with
Trail of Tears
, the titles of his pieces reveal a collage of monuments, mementos, glossy magazine clippings, and photographs:
Mount Rushmore
(2010) for chorus and orchestra, the opera
Jackie O
(1997),
Bay of Pigs
(2006) for guitar and string orchestra,
Letters from Lincoln
(2008) for baritone and orchestra, as well as
Motor City Triptych
(2000),
Route 66
(1999), and
Sunset Strip
(1999) for full orchestra.
Frequently recorded, a number of Daugherty's works have recently been released and are available for review:
Letters from Lincoln
with baritone Thomas Hampson (E-1 Entertainment),
Jackie O
(Dynamic DVD),
Fire and Blood/Motor City Triptych/Raise the Roof
(NAXOS), and
Metropolis Symphony/Deus Ex Machina
(NAXOS). The full orchestral score to
Tell My Fortune
(2004) is now available for purchase.
For scores, recordings, or other materials please contact
jessica.schmitz@boosey.com
, 212 358 5377
> News Search
Email Newsletters
Sign up for news updates and offers via email
SIGN UP
ONLINE SCORES