Michel van der Aa: UK premiere of Spaces of Blank
(June 2011)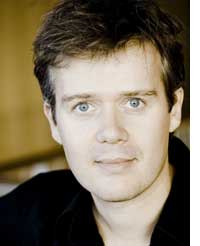 Michel van der Aa's acclaimed song-cycle, Spaces of Blank, receives its UK premiere at the Spitalfields Festival in London on 18 June with mezzo Stephanie Marshall and the BBC Symphony Orchestra.
Dutch composer Michel van der Aa has become particularly known for his multi-media scores combining film and live performers, so a 'traditional' work for voice and orchestra, his largest-scale concert work to date, was keenly anticipated at its 2009 premiere by the Royal Concertgebouw Orchestra in Amsterdam. De Trouw described how "Spaces of Blank revealed the lyrical side of the young composer... sonorously orchestrated in expansive soundscapes" and Het Parool wrote of how van der Aa composed "modern music that warmly welcomes listeners, but that also takes them seriously… a beautiful piece."

The UK premiere of Spaces of Blank is presented by the Spitalfields Festival on 18 June, performed by mezzo-soprano Stephanie Marshall and the BBC Symphony Orchestsra conducted by Lawrence Renes at Christ Church Spitalfields (7.30 pm). Van der Aa has been introduced to London audiences in recent years by a Barbican performance of his opera After Life, a concert in the Philharmonia Orchestra's Music of Today series, and most recently his new cello concerto with film, Up-close, performed by Sol Gabetta at the Barbican. The recording of the first performance of Spaces of Blank in Amsterdam, conducted by Ed Spanjaard, has been released both on the Royal Concertgebouw Orchestra's own label (RCO Live 10003) and on the composer's Disquiet Media label, with Christianne Stotijn as soloist (DQM 01).

Though adopting the guise of the orchestral song cycle, a crucial additional element is the electronic score that provides a spatial enhancement of the moods in the chosen texts. De Trouw wrote of how "the use of electronics was refined as well, often indistinguishable from the instrumental sound from which it emanated. Exceptionally well thought out, and a poetic addition to the already rich orchestration...."

Spaces of Blank sets texts by Emily Dickinson, Anne Carson and Rozalie Hirs linking themes of space and anxiety. The five poems, spread over three movements, prompt a virtual journey from an endless 'solitude of space' (Dickinson) to a closed 'garden of statues' (Hirs). The alternation between overwhelming expanses and claustrophobic intimacy is assisted by electronics that either expand or freeze the sound of the orchestra and manipulate the acoustics of the various spaces.

Michel Van der Aa's monodrama for singer, film and electronics, One, has just been released on DVD on the Disquiet Media label, featuring an extraordinary performance by Barbara Hannigan (DQM 03).

> Spaces of Blank at the Spitalfields Festival

> Further information on Work: Spaces of Blank
Photo: Marco Borggreve
> News Search
Mailing List
Sign up for news updates and offers via email
SIGN UP
ONLINE SCORES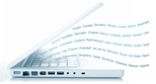 Explore our new library of over 800 online scores
VIEW SCORES
WAR & PEACE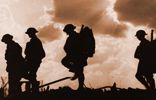 As we approach the centenary of the First World War (1914-18), explore music suitable for commemorative features.
EXPLORE WAR & PEACE