Oscar Bettison's The Afflicted Girl to be premiered by Bang on a Can February 24 at Merkin Hall
(February 2010)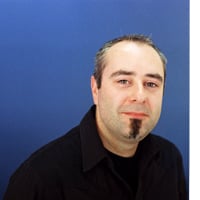 Oscar Bettison's The Afflicted Girl to be premiered by Bang on a Can February 24 at Merkin Hall
Oscar Bettison
's latest work
The Afflicted Girl
will receive its world premiere on Wednesday, February 24, at 7:30pm by the Bang on a Can All Stars. Commissioned by the Bang on a Can 2010 People's Commissioning Fund (PCF),
The Afflicted Girl
– scored for clarinet, electric guitar, piano, percussion, cello, and double bass – is inspired by the work of Peter Ackroyd.
In
London –A Biography
Ackroyd describes: "And there was 'the afflicted girl –white faced and expressionless' who sat for many years close to the Horse-Shoe of Tottenham Court Road, 'oblivious of time and inured to suffering though all the noise and tumult.'"
Says Bettison, one of three inaugural Boosey & Hawkes Emerging Composers: "I was very struck by this passage in Peter Ackroyd's wonderful biography of London. Through the course of writing this piece I returned to it again and again. At first I couldn't think why I found this image so affecting, but I came to realize that it was due to the idea of listening."
MORE…
Looking ahead, Oscar Bettison is currently writing a new work for the combined forces of the Percussion Group of The Hague and the Aurelia Saxophone Quartet in addition to a piece for four drummers commissioned by the Hellerau Festival in Dresden for the percussionists from Ensemble Intercontemporain, Ensemble Modern, MusikFabrik, and Klangforum Wein. A recording of his evening-long work
O Death
is due to be released on CD by Ensemble Klang in spring 2010.
Also in spring 2010, the Bang on a Can the All Stars travel to Milan, Italy for the world premiere of
Louis Andriessen
's
Life
on March 22.
Life
, with film by Marijke van Warmerdam, arrives at Carnegie Hall on April 17 for its U.S. premiere highlighting Andriessen as Carnegie Hall's 2009-2010 Richard and Barbara Debs Composer's Chair.
For scores, recordings or other materials please contact
jessica.schmitz@boosey.com
Photo Credit: Denise Anderson
> News Search
Email Newsletters
Sign up for news updates and offers via email
SIGN UP
ONLINE SCORES