Peter Maxwell Davies: Symphony discs reissued by Naxos
(May 2012)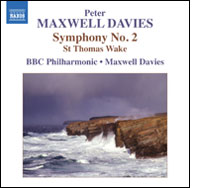 Naxos has embarked on a new Maxwell Davies series, reissuing discs originally on Collins Clasics, including the symphonies with the BBC Philharmonic conducted by the composer.
Naxos has embarked on an ambitious plan to make newly available the series of recordings originally released on Collins Classics in the 1990s. This follows the association between composer and label built through the commissioning and recording of the ten Naxos String Quartets and the release of an educational 2CD box on the composer
Peter Maxwell Davies – a Portrait
(8.558191-92).
First releases in the new series focus on Maxwell Davies's symphonies with the BBC Philharmonic conducted by the composer.
Symphony No.1
(8.572348) was premiered under the baton of the young Simon Rattle in 1978, when it was as startling for the composer's unexpected adoption of Sibelius as a symphonic model as for the score's vivid percussion colours depicting the harsh Orkney landscape of his adopted home.
Symphony No.2
, due for release this month (8.572349), is a virtuoso translation of the ocean's wave motion into musical form. It is coupled on the disc with
St Thomas Wake
which evokes the composer's memories of wartime Manchester, transforming a John Bull pavan into a foxtrot for orchestra.
Future releases of
Symphonies Nos.3-6
are planned over the next 12 months, and in 2013/14 the schedule turns to the concertos, including the
Trumpet Concerto
and the
Strathclyde Concertos
written for the Scottish Chamber Orchestra. Other works included in the Naxos plans range from the complex musical permutations of
Worldes Blis
to the tipsy festivities with bagpiper in
An Orkney Wedding, with Sunrise
.
All Peter Maxwell Davies's discs on Naxos are available from our
Online Shop
.
Maxwell Davies's 80th birthday is celebrated in 2014.
> Further information on Work: Symphony No.1
> News Search
Email Newsletters
Sign up for news updates and offers via email
SIGN UP
ONLINE SCORES