Rautavaara: Into the heart of light in Finland and Scotland
(November 2012)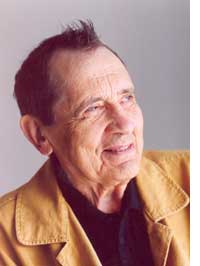 Into the heart of light, Rautavaara's new work for string orchestra, was premiered in Finland in September and is touring Scotland in December.
Einojuhani Rautavaara's new work for string orchestra, Into the heart of light, was premiered in Kokkola in September. Commissioned by the Ostrobothnian Chamber Orchestra to celebrate its 40th anniversary and dedicated to its director Juha Kangas, the 15-minute work is the fifth in the composer's Canto series.

During its composition, ideas and motives took on an inner life as Rautavaara describes: "As a natural scientist would say: an emergence takes place. And something began to brighten up gradually, a certain kind of light towards which this music was moving."

"Rautavaara's music is easy to like and Into the heart of light is no exception. The harmonies and chords are fascinating, the music flows, undulates and strives purposefully towards the light. The music creates the illusion of being underwater in the darkness, looking upwards towards a distantly shining light… The strings sound magnificent... Impressive!" Keskipohjanmaa

"Into the heart of light is almost surprisingly melodic with beautiful string lines that form a pleasing symmetry. Under the compact surface it bubbles with life and energy." Österbottens tidning

A further Finnish performance was given by the Pori Sinfonietta on 31 October, and the work's UK premiere is on a four-city Scottish tour by the Scottish Chamber Orchestra and John Storgårds in December, visiting St Andrews (5 Dec), The Queen's Hall in Edinburgh (6 Dec), City Halls in Glasgow (7 Dec) and Aberdeen (8 Dec).

October brought the Australian premiere of Rautavaara's recent Missa a cappella on a five-concert tour by the Sydney Philharmonia Choirs and its Swedish premiere by the Swedish Radio Choir in Stockholm. The RIAS Kammerchor gives the German premiere in Berlin in April.

Rautavaara recently received the 2012 Gramophone Award for best Contemporary Recording for the Ondine disc with two concertos: Towards the Horizon with cellist Truls Mork and Incantations with percussionist Colin Currie.
> Further information on Work: Into the heart of light
Photo Credit: Ondine Records
> News Search
Mailing List
Sign up for news updates and offers via email
SIGN UP
ONLINE SCORES