Turnage's new dancework for Wayne McGregor at Sadler's Wells
(November 2011)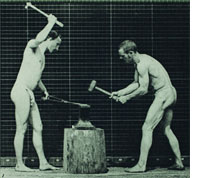 Mark-Anthony Turnage's UNDANCE, a new collaboration with choreographer Wayne McGregor and visual artist Mark Wallinger, is premiered at Sadler's Wells in London (1-3 December).
Sadler's Wells launches its Composer Series of new works with the world premiere of UNDANCE by Mark-Anthony Turnage on 1 December. The new dancework, choreographed by Wayne McGregor, forms part of a double bill with Turnage's chamber opera Twice Through the Heart sung by Sarah Connolly. UNDANCE is performed by the dancers of Wayne McGregor¦Random Dance with costumes by Moritz Junge, lighting by Lucy Carter, and a visual world created by Turner Prize-winning visual artist Mark Wallinger.

Turnage has written extensively for the lyric stage, including his operas Greek, The Silver Tassie and Anna Nicole, but this is his first score composed specifically for dance theatre. Turnage's new score for UNDANCE has been inspired by a text written by Mark Wallinger, which was in turn inspired by American sculptor Richard Serra's Compilation of Verbs and the human motion studies of photographer Eadweard J. Muybridge.

The starting point for both Turnage and McGregor was the collection of action verbs provided by Wallinger based on a list assembled by Richard Serra and acting as a construction kit. Turnage's 30-minute score for large ensemble consists of eight movements each headed by two of the verbs, such as the opening To dig to twist. Each movement is intended as a self-contained unit exploring one musical idea, building into a 30-minute whole. Turnage sees this as a similar method of constructing a dancework out of smaller units as employed by Stravinsky in Agon. The distinct characterisation and tempi of the movements allows for strong contrasts, such as between the duo for clarinet and bass clarinet in To catch to hop and the impact of the full ensemble in To spill to throw.

Wayne McGregor, who Turnage describes as "a composer's choreographer" because of his engagement with contemporary music, allowed him free musical rein, other than a request for a cumulative point towards the end. The composer's score can be interpreted freely in dance terms, so the action verbs need not necessarily be literally adhered to - more important is the choreographer's response to the music in physical terms, drawing upon the visual vocabulary of Muybridge's motion photographs. Similarly, Mark Wallinger's visual concept is left open, though he has explained the negation in the title UNDANCE as being prompted by UN signs in various conflict zones he has visited, questioning in his mind whether inaction may sometimes have been preferred to action.

The second part of the Turnage evening at Sadler's Wells features a new staging of his chamber opera for mezzo-soprano and 16 instrumentalists Twice Through The Heart. Wayne McGregor directs Sarah Connolly in the role of a woman who is jailed for killing her abusive husband. Collaborating with Turnage and McGregor are the innovative digital art-collective OpenEndedGroup with costumes by Junge and lighting again by Carter. Both Turnage works feature a live orchestra conducted by Tim Murray.

Ballet is forming an increasing strand of Turnage's activities. This summer saw a new Wayne McGregor choreography of Blood on the Floor at the Opéra Bastille in Paris. In July 2012 Turnage's new ballet score for choreographer Christopher Wheeldon, within a Titian-inspired triple bill, will be unveiled by The Royal Ballet at Covent Garden as part of the London 2012 Cultural Olympiad. Other ballets featuring music by Turnage include Heinz Spoerli's Peer Gynt (Scherzoid and Crying Out Loud), in the repertoires of Zurich Ballet and the Staatsballet Berlin, and From All Sides choreographed by Jorma Elo for Hubbard Street Dance Chicago.

> Watch a video trailer at rehearsals
> Sadler's Wells website
> Further information on Work: Undance
Photo: human motion study photo by Eadweard J. Muybridge
> News Search
Mailing List
Sign up for news updates and offers via email
SIGN UP
ONLINE SCORES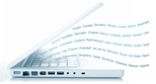 Explore our new library of over 800 online scores
VIEW SCORES
WAR & PEACE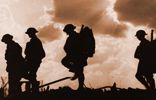 As we approach the centenary of the First World War (1914-18), explore music suitable for commemorative features.
EXPLORE WAR & PEACE