Unsuk Chin's Cello Concerto Receives U.S. Premiere
(January 2011)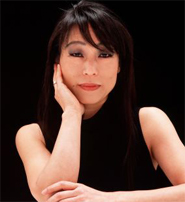 New York's Talea Ensemble Presents Unsuk Chin Composer Portrait
Unsuk Chin's
Cello Concerto
(2009) will receive its U.S. premiere with the
Boston Symphony Orchestra
under the baton of conductor
Susan Mälkki
with cellist
Alban Gerhardt
on
February 10-12, 2011
. The concerto, for which Chin received a
British Composers Award
, is dedicated to Gerhardt and was commissioned by the BBC Proms. It is Chin's fourth instrumental concerto to date, following her Grawemeyer Award-winning
Violin Concerto
. The U.S. premiere follows a hugely successful world premiere at the BBC Proms in August 2009 by the BBC Scottish Symphony Orchestra. Of that performance, the Sunday Times (London) wrote: "The greatest compliment you can pay a new work is the desire to hear it again, as with Unsuk Chin's Cello Concerto... (It) is surely destined for the repertoire." The work will also have German and Korean premieres in 2011.
Chin describes the work as "antithetical to (her) other concertos." She continues, "While in my concertos for violin, piano and percussion I was seeking to merge a solo instrument into a virtuoso super-instrument, here it's all about the competitive approach between cello and orchestra… In my cello writing, I often ask the soloist to become a kind of illusionist, disguising the nature of this instrument. However, I feel also strongly that the cello has a kind of intrinsic emotional character, which can't be denied."
Shortly following the Boston performances, the
Talea Ensemble
will perform an
Unsuk Chin Composer Portrait
at New York's
Bohemian Hall
on
February 16, 2011
at 8:00 p.m. The concert includes selections from her
Piano Etudes
(1999), and the New York premieres of Chin's
ParaMetaString
(1996),
Allegro ma non troppo
(1994), and
Fantaisie Mécanique
(1997). Ms. Chin will be present for the concert and featured in an onstage interview with
Dr. Anthony Cheung
, Talea's Artistic Director. The concert is a joint project with the Korean Cultural Service, and will feature guest pianist
Taka Kigawa
.
Korean-born composer Unsuk Chin currently serves as Composer-In Residence for the Seoul Philharmonic Orchestra. In addition to the British Composers Award, she is a recent recipient of a Fondation Prince Pierre de Monaco prize, as well as the Arnold Schoenberg Prize. Unsuk Chin was recently announced by Esa-Pekka Salonen as the new Artistic Director of the Philharmonia Orchestra's Music of Today series of contemporary concerts in London. In April, she will be featured in the BBC Symphony Orchestra's Total Immersion Day at London's Barbican Centre.
> To purchase tickets for the Boston Symphony concerts,
click here
.
> To purchase tickets for the Talea Ensemble concert,
click here
.
For press interviews with Unsuk Chin and photos, please contact:
Eric M. Gewirtz
, Director, Media and Public Relations
eric.gewirtz@boosey.com
(212) 358 5361
Hilary Jansen
, Publicity Assistant
hilary.jansen@boosey.com
(212) 358 5377
Photo Credit: Eric Richmond
> News Search
Email Newsletters
Sign up for news updates and offers via email
SIGN UP
ONLINE SCORES