Leonard Bernstein: Wonderful Town production tours UK
(May 2012)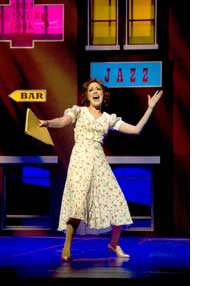 Bernstein's hit musical Wonderful Town is touring the UK in a new production with choreography by Andrew Wright.
"Fifties musicals are back in vogue." So noted The Guardian hailing a new production of Bernstein's Wonderful Town that is currently touring the UK until 7 July. Braham Murray's staging emanated from an imaginative collaboration among three of Manchester's leading arts organisations, the Hallé Orchestra, the Royal Exchange Theatre and The Lowry arts centre, with Connie Fisher in the central role of Ruth and choreography by Andrew Wright.

> Box Office for the tour

The reviewer wrote how "…the great joy of the evening is hearing a 60-strong band, under Sir Mark Elder's baton, devoting itself to Leonard Bernstein's exhilarating, jazzy score. I don't think I've ever heard a musical comedy rendered quite so richly."

"The operative word is 'comedy', since this show belongs to an age when Broadway musicals were sharp, literate and funny… Wit infuses every aspect of the book, music and lyrics. Bernstein responds brilliantly to each dramatic situation so that in Conversation Piece the music slowly infiltrates stumbling dinner-party chat, and in Swing! the rhythm develops from staccato utterances in a style that anticipates West Side Story."
The Guardian

"The music is irresistible, a Bernstein burn-up of jazz, jig, ballad, rag and tap. One triumphant number follows another in snappy succession… Comden and Green's lyrics are smart as paint, even when plaintive — "Why O why O did we leave Ohio" — and I especially enjoyed Ruth's attempt to interview conga-crazed Brazilian sailors about their view of America while being thrown over their heads…"
The Times

"…still speaking with freshness, directness and wit…"
Daily Telegraph

Bernstein's multi-genre Mass is enjoying its 40th anniversary this year, with a series of festival presentations embracing the wider community. Following his acclaimed Chandos recording, Kristjan Järvi conducted a new staging at the Adelaide Festival in March featuring Jubilant Sykes repeating his role of the Celebrant. Mass promises to be a highlight of the BBC Proms's focus on youth on 6 August, with massed Welsh choirs and orchestras from primary school to professional, again directed by Järvi. With recent performances conducted by Marin Alsop in New York and at the Southbank Centre in London, and in Salzburg, Munich and Vienna, this unclassifiable work finally appears to be achieving modern classic status.
> Weitere Informationen zum Werk: Wonderful Town
Photo: Connie Fisher as Ruth in Wonderful Town (image: Alastair Muir)
> Nachrichtensuche