Glanert's Caligula: reviews from Frankfurt and Cologne
(January 2007)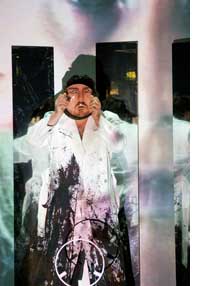 Detlev Glanert's Caligula: reviews from Frankfurt and Cologne
Detlev Glanert 's new opera, Caligula, has won exceptional acclaim in Frankfurt and Cologne, confirming his position as "one of the most outstanding contemporary writers of opera" (Sunday Telegraph). The co-production by Christian Pade was conducted in both cities by Markus Stenz, with Ashley Holland in the title role, "utterly compelling through all his character's violent mood-swings" (Financial Times).



Hans-Ulrich Treichel's libretto, based on Camus's play, portrays the Roman emperor not purely as a madman but, more disturbingly, as a rational human being, sadistically experimenting with his courtiers. The parallels with the dictators of recent history are unmistakeable: Caligula's final words at his murder are "I am still alive".

"Glanert stands apart from most of today's composers in being able to write operas that are challenging yet singable, structured with a feeling for theatre and driven by fascinating scores in which every note seems to count… His rigorous music evokes all the decadence and neurosis of the plot, drawn not from any of the story's more famously sensational sources but from Albert Camus's existential version… an opera that deserves wide currency."
Sunday Telegraph

"We knew about Glanert's skill as a composer. The way in which Henze's pupil handles the orchestra is another example of his virtuosity. In order to show the inner conflict of the title character through musical means, there are no violas in Glanert's score, thus creating a gap in the middle range. The music of Caligula is marked by tender textures of sound, fierce eruptions, threatening rhythmic throbbing, instrumental whispers, supple analogies using quotations and a broad range of vocal expression."
Frankfurter Allgemeine Zeitung

"The premiere was a great success and received enthusiastic cheers. There were two reasons for this success, provided by Treichel and Glanert: both the music and the libretto have an outstanding clarity and density. One can clearly follow the delicate dramatic structure, while the music not only includes strong effects and extremes but also traces the verbal development of an absurd exertion of power to a degree that ideally matches the text."
Frankfurter Rundschau

"Caligula has all the passion and intensity of true opera … The two hours of music, spread over four acts interrupted by a single intermission, have a polish and sense of order - even when abrasive - that reflect the composer's fondness for Mahler and Ravel. Vocal lines are flattering to the voices… An absorbing work and a welcome addition to the body of new operas."
Herald Tribune

"An effervescent, colourful musical drama which will attract many stagings"
Scherzo

Glanert's future stage projects include Nijinsky's Diary, for pairs of singers, actors and dancers with ensemble, commissioned by the Aachen Theater, and a full-evening opera for Gelsenkirchen, The Wooden Ship, based on the novel by Hans Henny Jahnn.
> Weitere Informationen zum Werk: Caligula
Photo: Ashley Holland as Caligula © Monika Rittershaus
> Nachrichtensuche