Offenbach Edition Keck celebrates ten years
(November 2009)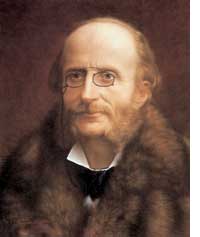 The Offenbach Edition Keck – now firmly established as the authoritative edition for performance of Offenbach's works – celebrates its tenth anniversary this autumn.
The OEK is directed by musicologist and conductor Jean-Christophe Keck and published by Boosey & Hawkes in Berlin.

As well as researching and creating performance materials in critical editions for the most popular Offenbach works such as Orphée aux Enfers, La Vie parisienne and La Grande-Duchesse de Gérolstein, the OEK has unearthed many unknown musical gems and stimulated a wider appreciation of the 'Mozart of the Champs-Elysées'.

• over 165 opera productions worldwide
• over 1500 stage performances
• concert performances of the stageworks, arias, scenes and orchestral works
• endorsement by conductors led by Marc Minkowski, directors including Laurent Pelly and singers Anne Sofie von Otter and Felicity Lott
• recordings on Universal Classics/Accord, Deutsche Grammophon/Archiv, EMI/Virgin
• prizes including two German Music Edition Awards

The most significant revival and reappraisal achieved by the OEK is of the composer's Romantic opera Les Fées du Rhin, performed and recorded in a definitive new edition in 2002 and first staged in 2005. Since then it has received over 50 performances in six countries and can be heard on a recording from the Montpellier Festival (Accord 472 920-2). The OEK edition of Les Fées du Rhin received its UK premiere in three concert performances by New Sussex Opera last month, travelling to Cadogan Hall in London on 27 October.

Other notable OEK revivals include the restoration of a wealth of missing music to La Grande Duchesse de Gérolstein, and the return to the concert repertoire of Offenbach's Cello Concerto (Concerto Militaire) which has received over 30 performances in the past five years and a recording by Jérôme Pernoo and Les Musiciens du Louvre conducted by Marc Minkowski (DG 4776403). Offenbach's incidental music for the Sardou play La Haine was revived in Montpellier this summer with a cast including Gérard Depardieu and Fanny Ardant.

The major project nearing completion is a first complete critical edition of Les Contes d'Hoffmann, one of the composer's greatest stageworks, but one that suffered cuts and unwarranted revisions right from its premiere. The new edition, a collaboration between Michael Kaye and Jean-Christophe Keck, and between Schott Music and Boosey & Hawkes, will restore the work to the composer's original intentions, while providing full documentation detailing performing options. The OEK vocal score, drawing on all available sources scattered across the world, will be available on sale in two volumes in Spring 2010.

> Visit the Offenbach Edition Keck website.
> Weitere Informationen zum Werk: Les Fées du Rhin (OEK critical edition)
Portrait by F Grünewald (1881)
> Nachrichtensuche