Helmut Oehring: POEndulum premiere in Glasgow
(April 2011)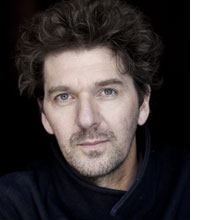 Helmut Oehring's new monodrama POEndulum, premiered in Glasgow on 7 May, casts a light upon the dark claustrophobia of Edgar Allen Poe's The Pit and the Pendulum.
Helmut Oehring's new monodrama for speaker and orchestra, POEndulum, is premiered at the Old Fruitmarket in Glasgow on 7 May. Commissioned by the BBC, the 30-minute work features performance artist David Moss and the BBC Scottish Symphony Orchestra conducted by Ilan Volkov. The selection of texts and dramatic concept are by Stefanie Wördemann, who has collaborated with Oehring on a sequence of works over the past decade. The concert will be recorded for future broadcast in BBC Radio 3's programme Hear and Now.

POEndulum takes as its starting point Edgar Allen Poe's famous short story The Pit and the Pendulum: a torturous scenario set against the back-drop of the Spanish Inquisition and the Spanish War of Independence against Napoleon. A prisoner faints as he is condemned to death and wakes in a dark chamber. A sequence of psychological tortures are revealed: a central pit, a descending bladed pendulum, and fiery walls closing in and forcing the prisoner towards the abyss.

Poe's Gothic nightmare is described by the vocal narrator as protagonist, painted by Spanish music from the time of the Inquisition, and represented by percussion which takes on a dramatic role. Oehring's monodrama is also linked to his GOYA-Cycle of works which relate the artistic-political documentaries of the 19th century with those of the 20th. Poe's texts interlock with settings of verse by the writer Federico Garcia Lorca murdered in 1936, prompting parallels with themes of imprisonment, torture and execution across the ages.

The Berlin-based composer Helmut Oehring (b.1961) grew up as a child of deaf-mute parents, leading to his highly original perspective on the nature of sound and communication. His early influences were from rock and jazz, then at the the age of 23 he embraced Western composed music while continuing to play and composer for electric guitar. He has been inspired by cinema and other visual media, including the cutting techniques of Fassbinder's films. A number of his works integrate simultaneous sign-language performed by deaf-mute artists. His music is programmed at leading festivals including Munich Biennale, Wien Modern, Spoleto, Donaueschingen, Witten, Almeida Opera and Biennale Venice. Recent commissions includes works for Ensemble Modern, the Stuttgart Chamber Orchestra, the SWR Sinfonieorchester, the BBC Scottish Symphony Orchestra and two operas for the Berlin Staatsoper and the Deutsche Oper am Rhein. Helmut Oehring's autobiography will be published by Random House in Autumn 2011.
> Weitere Informationen zum Werk: POEndulum
Photo: Astrid Ackermann
> Nachrichtensuche