Bernstein On the Town wows London
(May 2005)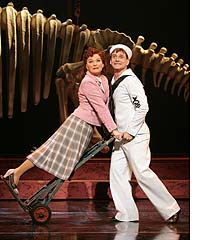 Bernstein On the Town wows London
English National Opera's new staging of Leonard Bernstein's On the Town proved a hit in the spring, with audiences totalling close to 40,000, and sell-out houses in London's largest theatre causing three additional performances to be added to the original run of 17. Music and script came up freshly minted with Jude Kelly's production and Stephen Mear's choreography combining in-your-face energy with subtler undercurrents reflecting on the musical's wartime setting.



"…it is surely Bernstein's masterpiece, with much help from the book and lyrics by Betty Comden and Adolph Green… the sentiment is perfectly calculated as a springboard for two of Bernstein's most beautiful romantic numbers, Lonely Town and Some other time… The dance sequences are, again, among his finest work, and the sizzling wit of both words and notes in the comic numbers has never been surpassed." Opera

"A brilliantly cheeky and vivacious Valentine to New York's energy and a giddy celebration of demob happiness…Has there ever been music that pulsates with such happy-go-lucky sexuality as that which Bernstein provides in this great score? When the brass section here rears up into full-bodied swing or when the whole ensemble weaves through one of those raunchy yet brooding mood passages, you feel you have died and gone to heaven." The Independent

"…it's an undoubted joy to hear Bernstein's exuberant score played by a full-sized fully-functioning orchestra … Being out of the West End frees director Jude Kelly from naturalism, and her designer Robert Jones and lighting designer mark Henderson, have worked wonders with light and space, using the acres of empty stage brilliantly to recreate this wide-eyed vision of New York's diversity." The Times

Bernstein celebrations are also heard in BBC Radio 3's Bernstein Season (28 May - 4 June), a week-long series marking the 15th anniversary of the composer's death and highlighting his diverse skills as pianist, conductor, composer, teacher and broadcaster. As well as On the Town, Wonderful Town and Candide, the Bernstein Season extends to a 12 June broadcast of the London Symphony Orchestra's Mass conducted by Marin Alsop, recorded on 5 June.

For full details visit the BBC website.
> Más información sobre la obra: On the Town
Photo: On the Town at English National Opera in London (credit: Johan Persson)
> Buscar noticias