Vacancy Details
Job Title:
New York: Promotion and Publicity Intern
Department:
Promotion
Based:
New York
Job Description:
The Boosey & Hawkes Promotion Department Internship Program provides a unique learning opportunity for individuals interested in careers in performing arts administration and the music industry. The program offers invaluable hands-on training and experience through participation in projects that allow for the practical application of academic knowledge and the development of business skills necessary for a career in the music industry.

Boosey & Hawkes represents a wide variety of 20th century masters, such as Stravinsky, Copland, Bernstein, Britten and Prokofieff, along with today's innovative voices, including John Adams, Steve Reich, Elliott Carter and Osvaldo Golijov. The New York office of Boosey & Hawkes works directly with orchestras, opera companies, conductors, and musicians across North and South America to promote the works of these and other composers to performing organizations, the media, and fans. Both in our office and out at performances, interns have the opportunity to discover and experience the music of our outstanding roster of composers.

Past projects have included:

Assisting with mass mailings of promotional materials
Conducting research for social media and other marketing campaigns
Updating the Boosey.com website with new recordings and performance information
Tracking and cataloguing press about Boosey & Hawkes composers and repertoire


Our ideal candidate:

Has an interest in contemporary classical music and the classical music industry in general
Is currently pursuing an undergraduate degree in music, music business and/or arts administration
Has superior writing, researching, and organizational skills
Has strong computer skills (i.e. Microsoft Office, HTML, Adobe Creative Suite, social media platforms) with the ability to quickly learn new software
Is detail-oriented
Is enthusiastic, well-spoken, and ambitious


Scheduling is flexible, but candidates should be able to work approximately 20 hours per week during the Summer (June to August). This is an unpaid internship, and must be done for college credit.
Further Information:
Type:
Internship
Closing Date:
6/1/2013
How to Apply:
Please send resume and a cover letter to chris.cresswell@boosey.com.
LISTADO DE DIRECCIONES
Regístrese para recibir actualizaciones de noticias y ofertas por correo electrónico
REGISTRARSE
ESCUCHAR MÚSICA MIENTRAS NAVEGA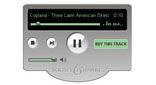 Explore la mejor música clásica con nuestro reproductor gratuito
ESCUCHAR AHORA