Have fun testing your classical music knowledge with our regular competitions. The first entry picked with correct answers will win both a CD and score of the listed work(s).
Prize for this competition:

Britten War Requiem CD with the London Philharmonic Orchestra conducted by Kurt Masur and soloists Christine Brewer, Anthony Dean Griffey and Gerald Finley.
and a
Boosey & Hawkes War Requiem Masterworks full score

Total prize value £40.98 (Approximately 58 USD / 44 Euros)


What extra-musical activity linked the composers Carlo Gesualdo, the Count of Venosa (c. 1561–1613), Percy Grainger (1882–1961) and Peter Warlock (real name Philip Heseltine) (1894–1930).


Two other non-musical pastimes brought Arnold Schoenberg and George Gershwin together; what were they?


What links the Czech composer Rudolf Karel (1880–1945) and Gavrilo Prinzip (1894–1918), whose assassination of Archduke Ferdinand in Sarajevo set the wheels of the First World War in motion?


The French composer Erik Satie (1866–1925) and the American Alan Hovhaness (1911–2000) have something very different in common – what is it?


Which American composer was born in a log cabin?


Many composers have written sets of 24 preludes for piano, one in each of the major and minor keys. But which composer wrote 360 preludes, fifteen to a key?


Much fuss was made last December around the 100th birthday of the American composer Elliott Carter, still composing as his centenary came and went. Which other American composer, Russian-born, lived to the age of 108?


What was unusual about the view from the windows that greeted the young Bohuslav Martinů every time he looked out of the family home?


Which aristocratic composer, having lost his right arm in a hunting accident, made a speciality of writing for the left hand alone, and composed the first sonata for left hand?


Another composing aristocrat, also a talented artist and writer, was well known for his eccentricities, one of which was keeping a flock of pigeons dyed in different colours at the family manor?


Email your answers to
competitions@boosey.com
Closing date: 28 February 2009
Autumn 2008 Competition
Congratulations to Ms Marie Gaudin from Lyon, France who won our Autumn 2008 competition.
She has received the prize of a CD and score of Strauss's Four Last Songs.
Questions and Answers:
What do Rheinberger's Eighth Organ Sonata (1882) and Brahms' Fourth Symphony (1884) have in common, apart from the key (E minor)?
The last movement of each is a passacaglia.


Which German-Danish dynasty of composers boasts a J. P. E., an Emil, an August Wilhelm and two Johann Ernsts?
Hartmann: Johann Ernst (1726–93), his sons Johann Ernst (1770–1844) and August Wilhelm (1775–1850), the latter's son Johann Peder Emilius (1805–1900) and his son Emil (1836–98) – and, as it happens, the composer Niels Viggo Bentzon (1919–2000) was J. P. E. Hartmann's great-grandson, too.


Who was the first composer to write a string quartet in each of the 24 major and minor keys?
Algernon Ashton (Durham, 1859–London, 1937)


Under what pseudonym did George Bernard Shaw write much of his music criticism?
Corno di Bassetto


What –ism got the composers Michael Tippett and Ronald Stevenson thrown into prison?
Pacifism: they were both conscientious objectors during the Second World War


Why was so much Classical orchestral music written in D major?
Because of the "crooks" of the horns: before the invention of the valved horn at the beginning of the nineteenth century, natural harmonics restricted the range of keys they could play


Name two "western" composers born in China.
Choose from David Avshalomov (b. Qindao, 1919), Boris Blacher (b. Niu-Chang, 1913), John Fernström (b. Ichang, 1897), Benjamin Lees (b. Harbin, 1924).


What links the musicals Song of Norway and Kismet and the operetta Lilac Time?
They are all based on the music of classical composers: Song of Norway (1944) uses music by Grieg, Kismet (1953) melodies by Borodin and Lilac Time (first produced in German as Das Dreimäderlhaus in 1916) pieces by Schubert.


Who instructed the composers working for him that they were not to write minor chords?
Irving Thalberg of MGM: hearing a run-through of a new film, Thalberg didn't like the music and was told that it contained a minor chord; the next day, a memo was posted which read "From the above date, onward, no music in an MGM film is to contain a minor chord".


How many overtures did Beethoven compose for his opera Fidelio?
Four: Beethoven first called the opera Leonore (though it was presented as Fidelio from the start) and wrote three overtures for it, known as Leonore No. 1 (1807), Leonore No. 2 (1805) and Leonore No. 3 (1806); the overture which now opens the opera was written in 1814


Thanks to all the entrants – we hope you had fun puzzling out the answers. Please enter our newest competition above.
View our
Terms and Conditions
Mailing List
Sign up for news updates and offers via email
SIGN UP
Further Reading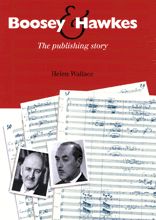 Boosey & Hawkes:
The publishing story
by Helen Wallace

A lively and detailed history from the 1930 merger to the present day.
Published 2007 (paperback) 244 pages, 150 illustrations

"A ripping yarn of a novel, if not a grand opera... Wallace's racy digest shows us how backroom businessmen continue to shape musical history."
Financial Times

"...a surprisingly gripping narrative. For those who wonder what really goes on in music publishing, it offers a fascinating read."
BBC Music Magazine
SHOP